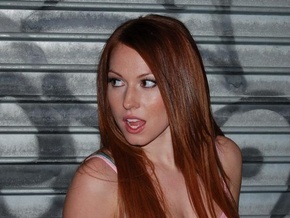 Lets face it here folks, it can be double hard for a female musician as she must not only have looks but talent as well to make it. My next guest has the looks, the voice, and the hot single to break on through. Let Stoli introduce you to canada's own, Phoenix Jones. I caught wind of Phoenix Jones after hearing her high energy new single, "For The Dance Floor." She is a relatively new artist but she is making major moves fast. Join me as we talk to Phoenix Jones about how she started out, being labeled a sex symbol, dealing with industry scams, and so much more. We even offer an MP3 of "For The Dance Floor" for your listening pleasure.
Stoli: Wow you are a very attractive young woman. Why pursue music as opposed to modeling or acting?
Phoenix Jones: I've been involved with all aspects of the performing arts from a very young age.   I started taking dance lessons when I was three, I've been singing since the first time I saw the movie "Annie," I did film and television acting from the age of nine to nineteen and more recently, I did promotional modeling for charity events, local clothing lines and MAC Cosmetics.   Needless to say, I've done it all, and through it all, one thing became very apparent to me – What makes you successful in the performing arts is passion – and my passion is music. Singing, dancing, writing, producing and performing.   That's what I'm meant to do so I won't settle for anything else.
Stoli: At what age did you decide to pursue music as a career and has your family & friends been supportive?
Phoenix Jones: When I was 10 years old I was doing a dance recital at a local theater.   I'd done many dance performances before but for some reason, this time was different.   I got on stage and from the moment the lights hit me the biggest smile you can imagine swept across my face.   No matter what I did I could not stop smiling.   At that point I knew, without a doubt, that I would be a performer.   Then, when I was 14 I wrote my very first song, a blues number.   I sang it for my uncle, he wrote a guitar part, I recorded the song in my grandfather's studio and the rest is history.   I've been writing ever since.   As for my family and friends, I couldn't have more love and support.   I wouldn't be where I am today without my incredible family who have done everything they can and more to help me pursue my dreams.
Stoli: Your grandfather worked as a composer with Walt Disney Pictures. How has he helped to prepare you for the music business and how much do you respect his knowledge for the business?
Phoenix Jones: My Grandfather is amazingly talented and I am so fortunate to have a pro like him to listen to and criticize my compositions.   His strengths are in creating and he has definitely influenced me to become a better writer and composer.   However, the business of music has changed substantially since he was doing most of his work and he and I are in completely different areas of music.   He writes for film whereas I write as a performing artist. So I take from him, as much as I can that is still relevant to today's business of music.
Stoli: Your music has a high energy dance tempo which I love. Have you always been a fan of dance music and who are some artists that you respect that came before you?
Phoenix Jones: I actually grew up listening to jazz, blues and funky soul music.   James Brown, Aretha Franklin, Al Jerreau, Natalie Cole, Diana Krall, Earth Wind and Fire, Michael Jackson and Tower of Power are just a few of the amazing talents I was exposed to as a child living in a house of musicians.   I started getting into dance music more when I was about 10.   I bought all of the "Dance Mix" tapes I could find and I had the "Aqua" CD on constant replay for a good year of my life. Then when I started writing songs, they were mostly RnB and only over the past couple of years have I really been producing pop and dance music.   Right now I'm really into dance music.   I have so much respect for everyone working in this industry and some of the talents I look to for inspiration now are David Guetta, Deadmau5, Lady Gaga, Britney Spears and Beyonce.
Stoli: Coming out of Ontario, Canada what are some of your favorite venues to perform at?
Phoenix Jones: Toronto is an absolutely amazing city and I feel very fortunate to call it my home.   This city really embraces the arts and there are tons of great venues looking to showcase Canada's vast amount of talent.   Some of my personal favourites include: El Mocambo, Slacks, The Poor Alex Theatre and The Smiling Buddah.   I would also absolutely love to play the Koolhaus.
Stoli: Being from Canada, do you feel like you have to work extra hard to get the US music fans attention?
Phoenix Jones: No I don't.   That's the beauty of music, there's no discrimination. Great music speaks for itself.  
Stoli: You are not only a performer but a producer as well. Who are some acts that you are working with and how did you learn the craft of music production?
Phoenix Jones: At the moment I do all of my own production and I'm not working with any other producers or writers.   However I do love collaborations and I would love to work with the right people to enhance both my product and theirs.   As for learning, I'm self-taught.   I don't have any substantial music training. I know the basic theory and I have great ears and timing.   I believe I inherited my ability to compose music from my Grandfather.   He taught me to clear my mind and allow the music to come to me.   So that's what I do, I let it all come together when it's ready.   I never push for creation, it always happens organically.
Stoli: When you are not in the studio what do you like to do on your own time?
Phoenix Jones: When I'm not in the studio, I wish I was in the studio.   But otherwise I enjoy eating out, watching movies at the theatre or at home and occasionaly I go out with my friends for a night of dancing.
Stoli: How much of your personal life do you like to expose through your songwriting?
Phoenix Jones: All of my songs are very personal.   Sometimes I write about a specific person or experience in my life and other times I write a song purely based on a feeling or vibe I'm in at the time.   I am careful though when I'm writing because I like music to be relatable.   I like it when I hear a song and I don't feel like the song is about the person singing it, but about anyone listening to the song.   A good example of this is my song "Rock Star."   That song is really about anyone, no matter who you are or what you're doing, feeling like a rock star.
Stoli: Just by looking at your photo shoots, you are going to be labeled a sex symbol. Does that bother you and are you comfortable with that position?
Phoenix Jones: Sex and sexuality are very important parts of life, and as human beings we are not meant to ignore those aspects of ourselves.   Everyone should feel confident and comfortable in their own skin.   I encourage all women to tell themselves, as I tell myself, every day "I am a beautiful, sexy female and I love it."   If that makes me a sex symbol, then I'm proud to be one.
Stoli: If you look at female singers today they are all attractive. From Rihanna to Beyonce to Alicia Keys and yourself. Do you think it fair you are judged more on looks rather than ability or is that fine with you?
Phoenix Jones: I don't believe that the musical icons you noted are judged more on their beauty than their ability.   All three of those women you mentioned are incredibly talented.   Rihanna has a beautiful voice and great presence, Beyonce is arguably one of the most talented singers and performers of our time and Alicia Keys is an amazing writer, pianist as well as a phenominal singer. Yes they are all beautiful but they wouldn't be where they are today without talent.
Stoli: Being a young, attractive, and talented artist you have to watch out for people with bad intentions in the entertainment industry. How do you deal with scam artists and what advice can you give to others in that situation?
Phoenix Jones: Trust your instinct and don't let your emotions and excitement make decisions for you.   It's important in this industry to take a step back from yourself and evaluate every situation as an objective third party.
Stoli: You recently made a huge buzz at "Go Hard or Go Home." How did that performance come to be and how much did that help to let others know you have arrived?
Phoenix Jones: Go Hard or Go Home is an event that is sponsored by Flow 93.5 (a Toronto radio station) and Death Row Records. They do a great job showcasing Canadian talent so when I heard about it I jumped at the chance to get involved.   I submitted myself and was selected to perform.   I did two songs with my amazing dancers and the crowd went crazy.   They totally loved it.   I had so much fun and I can't wait to do it again.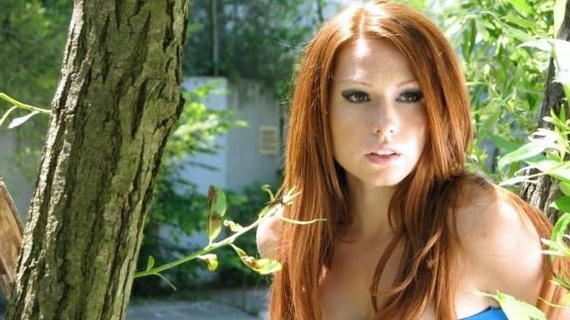 Phoenix Jones "For The Dance Floor" MP3:
Stoli: You are entering the music business at such an exciting time. How do you take advantage of the digital revolution to help promote your brand?
Phoenix Jones: Facebook, myspace, youtube and twitter are all great ways to get your name out there.   The Internet has opened up so many avenues for self-promotion it's crazy. The possibilities are endless.  
Stoli: When can we expect your debut album and who are you working with?
Phoenix Jones: I have a seven song EP available right now on Itunes, and with other digital distributors. I'm still working on getting all of the songs done for the full album and at the moment I don't have a date.   Keep checking for updates!
Stoli: What is coming up for Phoenix Jones and where can readers get more from you?
Phoenix Jones: Right now I feel like the world is my oyster!   My career in this industry has only just begun so as for what's coming up, I think the answer to that is everything!   I have a big show in Toronto at El Mocambo coming up on Dec 18th so I'm working hard preparing.   I'm putting all of my energy into touring and recording and so far the response has been overwhelmingly amazing and I'm so excited for what's to come.