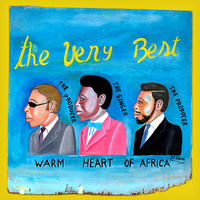 I'll admit that I didn't have the faintest clue what I was getting into before I heard Warm Heart Of Africa, The Very Best's first official release. Judging by the slight word of mouth I heard, I couldn't help but wonder: was I for an initiation into the mysterious world of African pop?Well, after hearing Warm Heart Of Africa, I realized my naivety ultimately worked in my favour. Going blind into Warm Heart Of Africa is the way to do it. It's probably the best way to become seduced after all.
Set to distinctly African rhythms, Warm Heart Of Africa is a wash of all manners of pop. Each of the thirteen tracks brim with unabashed promise; this is a record that will have even the gloomiest cynics believing in the power of fresh new sounds.
Swaying synth delights keep the harmonies of "Chalo" afloat, lending the song some serious '80's vibes. The constant party that is Warm Heart Of Africa would have served as an indefatigable soundtrack to movies like "Weekend At Bernies" or "Cocktail," had they been set on the coast of Cameroon or The Very Best mastermind Esau Mwamwaya's native Malawi. It's a party that challenges listeners to keep their hands in their pockets; one listen to the loving and emphatic call and response howl of "Julia" will likely have you trying to initiate "The Wave" in your own living room.
Warm Heart Of Africa isn't without star-power either. The title track features Ezra Koenig of Vampire Weekend; his light-hearted vocals lend a gracious touch to the bouncy beat that's littered throughout the track. The track seems like a logical step for Koenig and his oft-African inspired Vampire Weekend. And the warm evening groove of "Raindance" that M.I.A. offers vocals on means one thing; if the coolest of the indie world are taking note, maybe we all ought to as well. This record is truly unlike anything you will hear this year.
By Joshua Kloke
[Rating: 4.5/5]