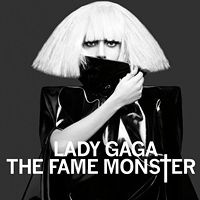 Change was a very good thing that happened to Lady Gaga. This time last year, we were introduced to a much different Gaga than the "freak b****h"(as she calls herself on "Bad Romance) that we are coming to know her as. Radio stations were blasting her electro-heavy dance singles, "Just Dance" and "Poker Face", but people could not put a face to the name, and her overall image was less avant-garde; She still very much looked and sounded like someone who beloged playing in a smoky nightclub.
It wasn't until the later half of 2009 did the media(and the rest of us for that matter) become infatuated by the enigma that was Lady Gaga. Aside from negativity coming out of the rumors spawning that Gaga was hiding "something" in her not-pants, her visually stunning and bloody VMA performance of "Paparazzi" embedded an image in the heads of all nine million viewers who watched that September night that wow'd all of us.
Three months later, we are still saying "Wow!" and Gaga is a few dates into her Monster Ball Tour(which previously was going to be a tour with Kanye West, but we all knew that wasn't going to happen anytime soon) which will allow Gaga to personally introduce her eye candy performances to fans all over America. The new and improved "freak bitch" is rolling out on tour with The Fame Monster, the re-release of her 2008 debut The Fame, that is coupled with eight new tracks including that one with the "ra-ra-ah-ah-ah-roma-roma-ga-ga-ooh-la-la" chant.
The Fame Monster comes off very different than her debut. It's darker. It's more personal. "Monster" describes Gaga being in a relationship with someone who she describes as a monster, and puts a gruesome swing on it with the repeating line, "He ate my heart and then he ate my brain". The lyrics aren't any prettier on the rest of the album. It's less about "fame", and more the dark plagues that come with it, and Gaga confronting all those evils. The songs have a very gothic and atmospheric overtone to them and greatly different in comparison to her previous work like "Just Dance" and "Poker Face", the singles that landed her on the radio.
"Bad Romance" begins with a very grandiose synth-heavy opening, and features Gaga's magnificent pipes, and from there on turns into an exotic and wild electro-heavy track. And after a while, that "ra-ra-ah-ah-ah" nonsense will grow on you. Fortunately, the rest of The Fame Monster is as infectious and a pleasure to the ears. "Dance In The Dark" has a very 80's new-wave vibe that is reminiscent of early Madonna. "Speechless" is an epic power-ballad dedicated to her father, and profoundly shows off her Queen/Freddie Mercury influence. All together, the guitar, piano, and Gaga's harmonies makes "Speechless" sounds almost like a shorter rendition of Queen's classic "Bohemian Rhapsody". Beyoncé appears on "Telephone" to delivering her angry, fast raps alongside with stuttering verses, a majestic chorus, and a distant dead dial tone in the background. The clash of the two impressive pop stars is terrific, and it's only a treat that the two come together once again for Beyoncé's own "Video Phone".
There is little to complain about The Fame Monster. In every possible way, it topples over The Fame and showcases Lady Gaga's true musical talent, something that seemed to be absent on her debut when in comparison to these eight tracks. Closing out Monster is "Teeth", and may be one of standout tracks out of her entire song collection. There is no synth to be heard for miles, and instead there is only a repeating whine of a trumpet and ground-shaking drums that sound more like the footsteps revolutionary march, with dictator Gaga watching over her army of "monsters", ordering them to show her their teeth. With much respect to Lady Gaga, lets hope that never happens. After seeing what her dancers wear in the video for "Bad Romance", could you imagine what the uniforms would look like?
[Rating: 4.5/5]