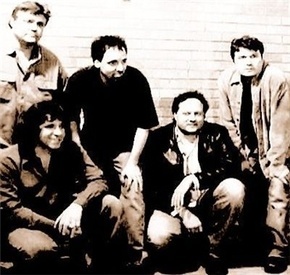 KickBends' album "Faith.Hope.Love" is an eclectic journey through the blues, soul, pop, rock, country, and folk.   From the vintage record intro of 'Gone' to the futuristic ending of 'The beat goes on', the album is a timeline of modern music. KickBend is Jim Barney – bass guitar, Luca DiNicola – acoustic guitar & vocals, Fred DiSanto – drums & djembe, Damir Shegich – electric guitar & vocals, and Dom Stasi – keys, lyrics, music, percussion & vocals. The band has been performing for nearly 20 years around the Chicago area.
Growing up in Chicagoland, the members of KickBend were exposed to a wide range of musical influences–from Buddy Guy to The Ides of March, from American Breed to Styx, and from REO Speedwagon to Enuff Z'Nuff.   The band draws from their musical memory to craft songs that pay homage to the legends.   The sound is contemporary, yet the lyrics and melodies are classic.
KickBend songs and videos are finding their way to American and international radio, internet charts, compilations, and music video programs.   Ironically, the whole project began as an afterthought.   Jealous Bone, an established Chicagoland blues band, was looking for a keyboardist to lay down some organ, piano, and accordion tracks for their follow up to Scratch.   Well, that keyboardist had some plans of his own.   Dom Stasi amassed a collection of songs he had written over the years.   After some failed attempts to form a recording band of his own, Dom saw something very special in Jealous Bone.  
A barter agreement was made, and the members of Jealous Bone (Jim Barney, Luca DiNicola, Fred DiSanto, and Damir Shegich) contributed to the arrangements of Dom's songs.   Dom wanted to capture the live Jealous Bone vibe for his songs.   After considering many studios, Dom decided to record at Creature Feature Recording Studios in Hammond, Indiana.   "Bob's studio is great for recording a live band," says Dom.   "The live room sounds natural, and the line of sight allows the band to play tight."
The weekend was booked, and the band recorded two takes of each song on Friday night.   Tamburitzans Joe Kirin and Steve Ovanin dropped by on Saturday to add their talents to "Let's make this right".   Guitarist Bob Persa recorded an acoustic guitar solo for "Too good".   And, last but not least, Deidre Lynn sang her heart out on "You'll miss out".   Dom was satisfied with the overall vibe of the recordings and continued to tweak the mixes over the next year.   "I wanted to get in there sooner, but O'Connor was busy with other acts.   And then he decided to upgrade the board!   Fortunately, the extra time with the mixes resulted in a better final product."
But before the project was mastered by Dan Stout at Colossal Mastering in Chicago, Dom visited Chicago Recording Company and Pumpkin Studios to make the final touches.   Danny Karabaic, Ryan Sullivan, Bruce Breckenfeld, and Michael Mason lended their ears at CRC.   These CRC gurus pointed out some aural deficiencies which needed to be addressed.   Meanwhile, Gary Loizzo at Pumpkin brought a quality to "A song for you" that echoes a more soulful era.
"It's close enough for rock 'n roll," concludes Dom.   "We could have spent countless more hours tracking, editing, mixing, and mastering.   But I made the decision to cut the umbilical chord…and it's still alive and kickin'."
Where did the name KickBend come from?
A kickbend is an old-school electrician's term for bending conduit.   A kickbend is a minor change of direction in a raceway or conduit run.   Symbolically, a kickbend can be a life changing experience or a finally-see-the-light moment in someone's life.   Everybody can use a little kickbend in their lives now and then.  
What do you want people to get from your music?
Ideally…a dose of faith, hope, and love. Realistically…a memorable listening experience.
Tell me more about the charities you want to help and why:
Recently, a former piano student of Dom's passed away after suffering from leukemia.   In addition to the annual "Light the Night" walk in Chicago, Dom wanted to create an ongoing contribution effort.   The band was already eyeing eBay to sell their new album.   The option to donate a percentage of the final sale to The Illinois Chapter of the Leukemia and Lymphoma Society made it all the more fulfilling.
eBay (to benefit The Leukemia and Lymphoma Society):
SKOPE IT HERE!
Project:Cure Volume 1 contains KickBend's "The beat goes on" from their new album.   The song is about the human condition…past, present, and future.   The song is about cherishing the past while considering uncertainties of the future, yet living in the now.
Project:Cure (fighting for a cure through music):
SKOPE IT HERE!
Finally, the album artwork on "faith.hope.love" features a depiction of a sterling silver cross, anchor, and heart pendants on a black rope chain.   The inspiration for the artwork came from Rosa Monckton's "Faith, Hope & Charity" jewelry collection. Rosa graciously allowed us to use the depiction, and we wish to spotlight her favorite children's charities.
Rosa Monckton (to support special needs children):
SKOPE IT HERE!
www.KickBend.com & www.myspace.com/kickbend
Written By: Diana Olson – diolson05@yahoo.com