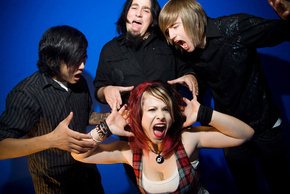 This year, the band reemerged as EVOLOVE, with a much more immediate, but still accessible, sound. EVOLOVE's first EP, 2012: Countdown to the End, an ode to the pending Mayan prophecy of the global Apocalypse set to occur on December 21, 2012.
This five-song taster, which was released in October, demonstrates both the band's musical influences (Rise Against, Flyleaf, Anberlin, Breaking Benjamin) and its own collective musical prowess. Billy and Jon write the energetic music, and then Lucy delivers reflective pointed lyrics. The collaborative result blossoms on the playful alternative three-chord shuffle of "On The Floor" and on "Let Me In," a tight-knit power-packed anthem of urgent yearning woven around melodic sensibilities.
While the band is supporting 2012: Countdown to the End, they have also been supporting charitable causes for many years, donating performances to raise money and spirits.   In addition to continuing events with the USO and American Cancer Society's Relay for Life, EVOLOVE will be working with the Keep A Breast foundation.
"Let Me In" MP3:
EVOLOVE is sponsored by Schecter Guitars, Daisy Rock Guitars, Orange Amps, Audix Microphones, Pork Pie Percussion, TRX Cymbals, Silver Fox Drum Sticks, Rock Me Makeup, PIP Printing and Travel Wellness.
[youtube 396whPvNooM nolink]