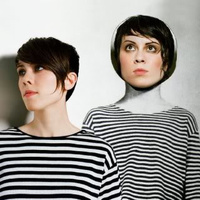 Canada gets shit on for a lot of reasons. As a Canuck, I can't imagine a lot of people living outside the great white north to understand the cultural importance of Curling and Peter Mansbridge. But we've got our heroes. We've got saints too, usually of the musical nature. And on Sainthood, the sixth full-length from Tegan and Sara, the twin sister duo prove that Canadians ought to continue to have faith in their saints. After all, Sainthood presents a beautiful evolution; the twins have ditched their mall-punk leaning pop vibes in favour of a fully grown, electronically infused sound.
Anyone who's seen Tegan and Sara in concert will remember their trademark banter that often presents the twins in a polar-opposite light, ironically enough. But on Sainthood, Tegan and Sara present a unified front. Things really get cooking on "Hell," the static-heavy third track. Here, the twins drop in and out of the verses and choruses with ease, but still manage to sound rather imminent.
Their harmonies stand out on "Hell," but they're righteously evident throughout Sainthood. True, this is likely the result of bringing Death Cab For Cutie's Chris Walla in as producer.   Yet what a fitting choice Walla was. On Sainthood, Tegan and Sara recognize that not only their harmonies but their powerful, swift electro-punk jams are what have kept them alive and well. They stick to this swiftness and the results are bountiful and plentiful.
"Red Belt," is another standout; potent acoustic finger-picking is hinted at throughout a synth-heavy beat. It's one of the album's shorter tracks, but no less important. Tegan and Sara have cut the fat on Sainthood. There's the air of seriousness that permeates throughout the thirteen tracks, and though the duo achieved a considerate amount of success on 2007's The Con, Tegan and Sara seem to be speaking less in tongues and more directly on Sainthood. And we're all listening, loud and clear.
By Joshua Kloke
[Rating: 3.5/5]