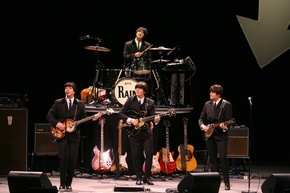 A Homecoming concert for the ages graced the stages of IU Auditorium in Bloomington, Indiana.   It was Oct. 15 and the event was RAIN, which offered up a taste of Beatlemania at its finest.   RAIN is a Beatles tribute band that mimicked the fab four perfectly.   Everything from the look to the sound to the stage presence to basic mannerisms, it was as if I was watching a closely resembled Beatles Reunion right before my eyes.   John Lennon (R.I.P.), George Harrison (R.I.P.), Paul McCartney and Ringo Starr would have been very proud of this performance as it showered the audience with pure joy & excitement.
Four of the members were actually part of the Broadway hit Beatlemania who in turn were recruited by Dick Clark himself.   The four performers are: David Leon as John Lennon on vocals, rhythm guitar, piano and harmonica—Graham Alexander as Sir Paul McCartney on vocals, bass, piano and guitar—Tom Teeley as George Harrison on vocals & lead guitar and Ralph Castelli as Ringo Starr on drums, percussion and vocals.   Rounding out the group was one other fifth member known as Mark Beyer who added additional sounds of keyboards & percussion.  
Covering the Beatles can be incredibly tough because their music catalog is so heavily extensive.   I have to say though that these five men imaginatively from Liverpool really did the legends justice.   I heard classics such as:   "Sgt. Pepper's Lonely Hearts Club Band", "With A Little Help From My Friends", "Day In The Life", "Come Together", "Hello Goodbye", "All You Need Is Love", "I Am The Walrus", "Eleanor Rigby", "While My Guitar Gently Weeps", "Norwegian Wood", "Blackbird", "Revolution", "I Want To Hold Your Hand", "Twist And Shout", "Can't Buy Me Love", "Hard Days Night", "When I'm Sixty Four", "Let It Be", "Hey Jude" and a touching rendition of Lennon's classic, "Imagine".   From the White Album to Rubber Soul to Sgt. Pepper's Lonely Hearts Club Band to Magical Mystery Tour and then to my favorite Abbey Road featured songs from these chart-topping records.  
What amazed me about RAIN was how they resembled The Beatles so closely with the way they sang & talked, the way they played, what they looked like and what they wore.   These five men on stage that night were hitting it right on the money with their closest replica of the best band ever.   My favorite performer that night was Graham Alexander who played McCartney because he just seemed to be completely in tune with the character.   It was an absolute treat to see, hear and experience this event live.   RAIN is amazing in the sense that they chronicle the entire career of The Beatles in such excellent fashion.   You get the clean-cut, mop-top boys early on and then you go into the deeper, drug-induced psychedelic days.   All of this is spot on as you really feel and relive the different eras The Beatles experienced.   The changes were immense as the sets rolled on and you were able to pick up on this visually and audibly.   Beatles music was coming to life right before my eyes and ears!
I was highly impressed with the sound quality coming from the stage and throughout the Auditorium.   One highlight of the night, for me personally, was the performance of "Day In the Life".   This was the last number of set one heading into intermission.   The part of the song where it elevates in sound was accentuated so well where this crescendo blasted through the audience.   It was amazing to hear this rich display of sound come through in such a powerful & forceful way.  
I would highly recommend this show to anyone who is a fan of The Beatles.   Even if you're not, you will surely enjoy the show these RAIN members put on.   With the reemergence of The Beatles through shows like this along with the re-mastering off all their classic works and not to mention a new hit video game, Beatles Rock Band, the legend is sure to live on.   New generations, hopefully, will appreciate the greatness of this band and that is a beautiful thing.  
I'd also like to recommend a new DVD out, The Beatles Rare And Unseen, which is the unofficial account of the biggest band in the world.   I love the music The Beatles have created and I have a feeling it will never die.   For more on RAIN, SKOPE out www.raintribute.com.  
By Jimmy Rae (jrae@skopemag.com)