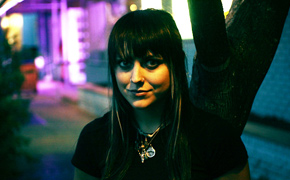 It's not easy being the "odd man out" when trying to make your name in the music scene, but VersaEmerge believe that their edginess will end up being their advantage in reaching that goal.
This isn't the first time Skope and VersaEmerge have crossed paths. In April this year, we spoke with Sierra Kusterbeck at the band's hometown show in Palm Beach Gardens, at relatively small bar awkwardly named Swampgrass Willie's. It's the kind of place you can make sure to see local talent, and buy a hot dog or a beer while you watch said talent. At the time, VersaEmerge was starting to peak out, after being recently signed with Fueled By Ramen, and touring with Craig Owens. It was possibly their last chance to do a small, intimate show like that.
With a rough summer of Warped Tour completed, the band has definitely given themselves a great deal of exposure to now throw themselves on to bigger tours, which means bigger venues, and greater exposure. Currently, they are opening up on the OP Presents Boys Like Girls tour, with the likes of Cobra Starship and The Maine. Despite possible setbacks, such as falling into the biased category of "girl singer band", VersaEmerge look past that and give the power-pop/punk littered music scene a breath of fresh air with their theatrical-rock/punk.
—
How's the tour going up to this point?
SK: Uhh, fawesome.
Fawesome?
SK & BH: Fawesome!
SK: It's very fawesome because lots of kids come to this and they don't know who we are, and we're getting really good exposure. Kids are learning about us, it's cool.
BH: It's definitely the biggest club tour we've been on. It's just a lot bigger venues than we've ever consistently played, it's just another thing to help a band grow up.
Do you still enjoy the smaller, hometown shows?
SK & BH: Depends. [I kid you not, they seem to answer in unison] BH: Definitely. [However] We want it to be as big as possible, and usually bigger venues have better sound. We really feed off of really good stage sound, but the best thing is the kids. Those small venues definitely make for a better show.
Is this your first time touring with Boys Like Girls?
BH: It's our first time, yeah. We've toured with The Maine a couple times, and…
SK: The Rocket [To The Moon] was at Warped for a little bit.
Are you performing any new stuff? You're writing a new album, and you guys performed new songs at Union Park in New York.
BH: We aren't doing any tonight.
SK: We're just doing the stuff that we had. Because, a lot of the kids don't know who were. It's like, they hear a new song, they'll buy a CD, and it's really cool.
BH: I think if we had a longer set, we could definitely change it up. Most of the kids, even home, it's their first time on a tour like this. A small percentage of the crowd has heard of us before, and we got 20 minutes to make an impression on the crowd, and we just want to do what we know best.
What do you guys do before and after your sets just to chill?
SK: Before… we usually get here, we load in, fart around… we do interviews sometimes.
BH: Yeah, we all have severe ADD sometimes, especially in group interviews… We all just end up kind of chilling before the set, try to goof around, and…
SK: Get hyped!
BH: It sucks being on-stage and not being in that mood. We try to do stretches.
SK: We beat each other up a bit. After, we try to go out to merch table as much as possible, and talk to kids.
With the sound you guys have, is it a bit hard to be on a tour with primarily a teeny-bopper audience?
BH: I think it's cool to be on a poppier tour because our band is the edge of that tour, y'know? Being the edgiest band on tour, it's kind of an alternative to the kids who are tired of hearing certain stuff. All the bands on this tour are awesome, but we definitely like being the bands that's…
SK: The odd man out.
After this tour, what do you guys have planned?
SK: We're just gonna be off, and finish up writing/recording the record, and hopefully releasing it next year.
BH: Probably a rough estimation spring of next year.
Is it going to be more new than old stuff? Because LIGHTS recently released her new album…
SK: And it had all her EP songs.
BH: Yeah, everything on it is going to be new. We've never done a full-length CD in our lives, and everything leading up to this point… it's going to be all new.
Are you guys working on that Björk cover?
SK: [Laughs] I mean, we jam it sometimes and like "One day, one day we're gonna do it", but we don't ever really do cover songs, especially in our sets, y'know? Because we're a new band, and we want people to hear us.
Which song was it anyway?
BH: The one we were probably talking about last time was "Unravel" off of Homogenic. I think it'd be really sweet, on a headliner tour, to do a full-band cover of Björk, kind of like a Versa rendition.
It'd be really hard since a lot of her stuff is experimental, like Radiohead songs, and it'd be hard to pick and choose which songs to do and not to do, because it might not click with some fans.
BH: Defintely we take a lot of influence from Björk, and I guess it's that aspect and enhancing all that, and blowing it out of proportions. Everything with the strings and sounds, and all the textures. Our band, more so on the latest EP than on Perceptions, strings especially, pianos.
Do you think being from Florida made it harder to break out, since Florida is always looked at as a whatever-state?
SK: I think it just depends on the work you put into it, and what kind of sound you have. Of course, you have a lot of bands to compete it, but actually I think it's an advantage because a band like us, I don't think has come out of Florida.
BH: I think initially it may seem like it'd be harder for a band, in a place like this…
SK: I think it'd be harder for a band in New York City.
How do you guys deal being packed in one van?
SK: Fun.
BH: Sometimes.
SK: Smells terrible, but it's not bad.
BH: We definitely deal. I mean, we went crazy a long time ago so we don't have to worry about that.
SK: When you drive through the desrt for at least 300 miles or more, and it's nothing but orange outside and you're in the van, and you've listened to everything on your iPod, and you've made weird things, and you've got…
BH: Sierra literally has scattered toys around the back of the van from a wolf mask, an Indian on a horse, moccasins…
SK: That's not a toy! You collect objects at really weird truck stops or what kids give you, and you have to put it to good use.
I guess it all made good for the Halloween show.
SK: [Laughs] See, the things I had in my backpack and around the van literally made up my Indian costume.
BH: Oh yeah, a hatchet. I forgot to say, she got a toy hatchet.
SK: Tomahawk!
Did you guys all dress up?
BH: We dressed up as Paramore actually, on Halloween in Dallas. We thought it'd be funny. We got brightly colored jeans, and we got white shirts and wrote "Riot!" on them. We had Paramore playing as our intro.
SK: It was so awesome! Kids were so confused, they were like "Paramore's playing? They played?".
BH: I saw a couple kids post online that they actually thought it was Paramore for a second.
Your first Warped Tour was this year, right?
SK: Si.
And, how was that?
SK: It was tough, rough, dirty, and so much fun! It was like summer camp.
BH: It makes your band into a better band, I feel like.
SK: You really have a lot of learning to do when you're put through such circumstances. Things are so tough out there… you get the big picture.
What was the single, worst thing that happened that you wish didn't happen, if any?
SK: I wish everything happened… except for our AC breaking on the bus, for a night. It was seriously a sauna on the bus. Everybody woke up at the same time in the middle of the night.
BH: If you get a van with broken air-conditioning and deal with it. If you're on a bus with broken air-conditioning, driving through the desert at night… you open the windows, doesn't do anything. You're there in your underwear, sweating.
So, I guess you guys are pretty intimate–
BH: Walkin' in our underwear?
Piling on top of each other in a bus.
SK: [Laughs] BH: Being dirty all over each other all the time. Not sexually.