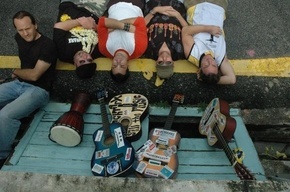 Together since 2005, the Benchmarx are set to release their second studio album "Smell the Music".   Besides being talented musicians, all of the band members are teachers at the International School of Kuala Lumpur.  
In the band are, Gary 'The Glove' Blanton, on bass, Erik 'Herr Direktor' Richardson, on drums,   Steve 'Buzz' Northcott, Vocals,   guitar, harmonica, Kenny 'The Real JD' Peavy ,Vocals, guitar, and David 'Ace' Ross , Guitar. They have been busy preparing for a big event at the Havana on Changkat Bukit Bingtang on Nov. 14th for the release of the new album.
The name "Benchmarx", says Peavey "Is from the Standards and Benchmarks that we have to follow as teachers".   "The Marx part is for Karl Marx, which makes it a bit more rock n roll."       Drummer, Erik Richardson is nephew to internationally famous drummer Bill Lordan (from the Robin Trower Band).   Bill says,   "this is a fun band to listen to with great energy."
From their website: What started as a mere excuse to waste Monday afternoons turned into a rock and roll movement that shaped the very lives of thousands, maybe hundreds, well, at least 7 musicians. The Benchmarx formed in 2005 under the common musical umbrella of expression, danger and vast silliness. But heavily sprinkled with Rock n' Roll. While developing their sound, later termed 'The Ampang Sound' by countless Rock Magazines, they fooled with covers of rock legends such as Pearl Jam, The Cure and Young MC.
Original members, Eric 'the Tick' Beck, Steve 'the Buzz' Northcott, Bill 'Monstah' Madden, Kenny 'the Joy Donut' Peavy (his nicknames have evolved through the poetic transformations of JD to the Real JD, to the realest JD), and Erik 'Herr Direktor' Richardson. Through the transience of rock and roll, the Benchmarx found themselves searching for replacement musicians as members were either deported or left to claim Publisher's Clearing House Checks. When the Tick left the band in 2007, the Benchmarx welcomed David 'Ace' Ross into the mix. Originally a stellar lead guitar player, Ace also took over some BASS duties as the Benchmarx showcased their versatility seen by swapping instruments throughout their legendary sets. In 2008, the Monstah left to roam the African badlands and left the Benchmarx with another hole to fill. In came Gary 'the Glove' Blanton. His creativity and long hair were instantly welcomed to the band.
The Benchmarx released their first CD in 2007 aptly entitled, "Greatest Hits Volume 2." Surprisingly, copies are still available and can be very easily mailed to your front door. The Marxmen are currently recording their second full length CD, "Smell the Music" with anticipated hits of C'mon, Misbehavin', Lori Sewa and Threshold await the eager public.
The Benchmarx have thrown their hat into the political ring, as well, recording a song last September in support of now president Barack Obama entitled, "Barackin' The Free World." The Benchmarx and varied forms thereof have played in Singapore, Malaysia, Cambodia, China, and Indonesia and look to continue rocking with their unique brand of funk, rock and ridiculousness.
Who were the bands inspirations?
AC/DC, Run DMC, Pearl Jam, Stone Temple Pilots, Alice In Chains, Chris Cornell, Red Hot Chili Peppers, Led Zeppelin, Hendrix, Sly & the Family Stone and Robin Trower! (ha ha)
What do you get from your music and what do you want listeners to get from it.
We get the joy and buzz of performing live, making our audience move and groove, sharing our collective creativity and musical imagination, demonstrating our passion for the arts, and living a dream to play original stuff (and not just cover tunes).
I think our fans have a really unique experience listening to all of our originals (over 25).   We create a type of music you wouldn't normally hear in Malaysia- a mixture of funk, blues, rock, and rap.   We aren't easily forgotten!
Tell me more about the big event coming up in November.
We have 2 HUGE events on November 14th.   We are National Finalists in the Global Battle of the Bands (GBOB) and are competing against 11 other local bands for a chance to go to London to represent Malaysia in a global competition.   For more information about GBOB see:
Directly after GBOB, The Benchmarx have to speed across town on our motor bikes to our CD release party!   Our second CD is entitled SMELL THE MUSIC and is powerpacked full of songs from a variety of genres.   We have blues, pop, rap and hard rock, all of which highlights our plethora of talents, diverse backgrounds, and individual influences in music.
We expect both events to be full to capacity! And plan to rock both events for a music hungry crowd!
Share some thoughts about how all of you interact and what it is like living and performing in a foreign country.
It's pretty amazing that we've been able to accomplish so much as part time musicians and full time teachers.   We are all local celebrities in the music scene based on the fact that we are NOT Malaysians- we are white guys.   Thus, the BENCHMARX stand out not because we are the most accomplished or virtuoso cats in the business, but because we bring something ethnically (and musically) different in Kuala Lumpur.   Our bluesy, poppy, hard rock sound stands out in the local scene.   We can only practice once a week, gig once a month, and go to the studio when we can.   We've been on TV, radio, posters, and stages across this city.   We've also had opportunities to play in Manila, Singapore, and other Malaysian cities.
For More information about BENCHMARX see:
www.thebenchmarx.com
www.myspace.com/thebenchmarx
Words By: Diana Olson – diolson05@yahoo.com