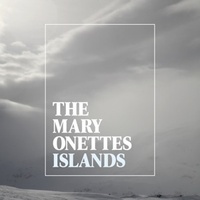 Alright, seriously. Sweden sounds like a magical place. Sure, it's probably cold as hell, but the images that are often conjured up when listening to Swedish dream-pop bands that gets me thinking about booking a one-way ticket to Stockholm. I'm From Barcelona seduced me rather easily on Who Killed Harry Houdini? while Peter, Bjorn and John had me thinking that in Sweden, whistling is the second most popular language.
And all my suspicions were confirmed on Islands, the latest from Jönköping's dream-poppers The Mary Onettes. With dramatic hints of The Cure and New Order, the haunting vocals and swirling synthesizers paint what at first seems like a dreary picture. Yet as Islands evolves throughout its 10 tracks with the dependable precision of the changing seasons, eternal darkness soon gives way to eternal and optimistic light.
I've been told it takes a specific, special kind of person to live in Sweden; I can only hope it doesn't take as specific person to understand Islands. Like a slowly rising sunset, "Cry For Love" takes awhile to get into, but once the tragic piano gives way to radiating guitars, the gorgeous patterns that seem to sprout up everywhere on Islands take hold and produce beautiful, sprawling landscapes. "Puzzles," the opening track and first single is no less evocative, while "God Knows I Had Plans" breathes pop-leaning life into Islands.
What stays constant on Islands is the landscapes portrayed. Each track defies the constraints of a four-minute pop song, weaving and stretching throughout the said landscapes. Islands might be a great train trip record, yet like any train trip, what might be a magnificent landscape often melts into the last one you took in. Islands doesn't really have any standout tracks, and though The Mary Onettes do rely a little too much on their influences, it's all a matter of patience. If you can find beauty in the cold, then you can likely find beauty in Islands.
By Joshua Kloke
[Rating: 3.5/5]