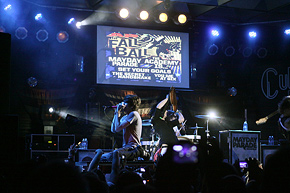 Tallahassee-rockers Mayday Parade are currently co-headlining the AP Fall Ball Tour with The Academy Is… and on this close-to-home-town date of the tour, we were able to sit down with the band and talk about being back in the sunshine state, and what bands they'll be going on tour with very soon.
How does it feel to be back in your home state?
It's awesome, we got to spend a day off yesterday in Tallahassee and that was really cool. I got to see my mom, friends, family, and stuff, so it's always good.
I've been looking forward to coming to Florida for the whole tour, even though it's the most ridiculously hot place in the world, but it's good. The show should be awesome.
You guys plan on doing anything special for Florida?
I don't think we have any plans to do anything different than usual. Just get there, and do the best show we can.
Have you toured with The Academy Is… before?
We haven't. We met them for the first time on this tour, it's awesome. I'm stoked to be with them, they're really cool guys and a lot of fun to hang out with. I've listened to The Academy Is… for years now, since before we even started Mayday Parade. It's really an honor to be on this tour.
Do you feel there is a bit of fear of taking over for someone else's spot?
You know, it's not fear, but it is kind of weird I suppose and humbling for us to think that "Yeah, we are co-headlining with them" and it's nice that we play after them. It's really kind of weird and feels kind of out of place because I've loved them for so long. But, nobody is weird about it.
The new album has a bit more of a happier tone.
We were really going for angry when we wrote it [Laughs] No, we weren't really going for angry. It's weird you say that, because I don't even know what to say about it. A lot of people listen to it and will say "Oh, this one is happier" and then "God. this one is depressing". I guess it just depends on the song you listen to, because not all of them are either way.
And also, on the same topic, is that a lot of people listen to it and be like "It's much heavier than the old stuff" and some people will listen to it and be like "It's much poppier than the old stuff". It's really kind of confusing, I don't know what it is.
I feel like we were in a better place in our lives, we were a better band. We were touring on a bus, we're a littler happier, it's a job now, and we're making a living off of doing it. We all have girlfriends too, and pretty happy, and that could come across in the music too.
Any plans after this tour is over?
Yeah, right away we're doing a headlining tour with some really cool bands. [To the band's tour manager] Am I allowed to say it yet?
I'm not sure if we're allowed to say it… just say it. Brooks already said it the other day.
Alright, well it's with There For Tomorrow, A Dangerous Summer, and for some of the dates our friends in a band called Vega Under Fire will be coming out, and for some of the dates our friends in a band called The City Lights are coming out. So, it's going to be a lot of cool bands.
It'll be short, like a 3-week tour, just kind of between Thanksgiving and Christmas. I don't know for sure yet, what all the dates and what areas it will be, but just look on our Myspace. The dates will be up as soon as we get them.
—
If this is your first time hearing of Mayday Parade, then you may want to check out our review of their latest album, Anywhere But Here.