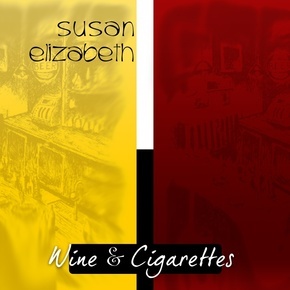 Susan Elizabeth is a musician, singer, and songwriter who has made her way through the music industry for many years and has finally decided to take it all into her own hands.
Susan Elizabeth entered the music scene with her old band Paige23 over nine years ago and accomplished much with her band before she decided to start her solo career.   Paige23's first album, "Let Yourself Fall," was released under ACM Records in 2002.   Songs from the album were featured on shows such as "Ed" and "Medium," and in 1996 Susan won a college scholarship for her song "Run Run (Too Far From Me)."   In 2005 the band independently released their second album, "In Retrospect," and decided to split shortly after.   Susan wanted to continue with her own music and experiment with different styles.
Susan Elizabeth is a breath of fresh air, truth and reality.   The passion in Susan's music makes it possible for her fans to just listen to her play and instantly feel connected to not only the music, but to the person behind the guitar.   "Wine and Cigarettes," is by far Susan's most personal project to date.   It is a chronicle of her life leading us through her finding of Buddhism, her marriage/divorce, her dating life after the divorce and finally discovering her new fiancé, losing him and finding him again.
Her style can be compared with Alanis Morissette although Susan Elizabeth comes across a lot softer; not necessarily in her music but definitely in her lyrics. While Alanis Morissette went from bitter and angry divorcee ("Jagged Little Pill") to overly thankful followed by a quick jump to frighteningly positive, Susan Elizabeth's heartfelt, thoughtful and playful energy comes across in all of her songs/albums. Think of Anouk's ballads on the album "Urban Solitude" and you are just another step closer to understanding Susan's music; the song "Michel" takes Anouk way back to when she first met her soul mate Michel, similar to Susan's story with "Reinventing Sara."
The song "Peace" tells us more about her finding Buddhism last summer, an experience she found both enlightening and soothing. Susan was raised Roman Catholic, yet due to various personal reasons and the public scandals the naughty priests of nowadays found themselves in the middle of, she drifted further and further away from her beliefs. "Peace" is dedicated to Buddha and her spiritual guide Arya Tara.
Susan Elizabeth takes us on a painful yet educational journey with her ballads; she touches upon everything from the loss of a soul mate to the ironies in life such as explained in the song "The Excitement Before." "Many things in life are just all about the excitement before it happens rather than the joy of the actual 'thing' you're chasing after," Susan explains.
And we all know what she's talking about; it could be that Latin lover you've been eyeing up for weeks on end and once you've felt the brush of his tongue you realize your dog's tonguing techniques are better than his and all excitement is lost. C'est la Vie.
C'est la Vie…an attitude Susan seems to have adopted and turned into a free spirited outlook on life.
There is no need to sit down with Susan Elizabeth in order to get to know her; just wait for her to pick up that guitar and let the melodies lead you closer to her thoughts and persona. "Wine and Cigarettes" is the soundtrack to her biography and it can be to yours for all the various aspects in life you enjoy; be it the same amount of smokes you enjoy while listening in, or a lazy day in the sun with her voice mesmerizing you in the background. Either way, this sparkling senorita will not disappoint you.
Who were your musical influences?
My father raised me on the Beatles, Eric Clapton, the Allman Brothers, and the Eagles.   Since I was born in 1978, and the Beatles had dissolved by then, I also grew up on their solo albums.   As I grew older, Madonna was queen of all music for me until I discovered the acoustic guitar.   Sarah McLachlan influenced me quite a bit with her songwriting on "Fumbling Towards Ecstacy", as well as Shawn Colvin's "Fat City."   Then Ani Difranco's "Not a Pretty Girl" fell into my lap and I was like, whoa, what is this??   I've been a fan ever since.   Now I'm listening to more electronica like Imogen Heap and Nine Inch Nails.   I love electronic music and the noises they use to produce music.
What do you want people to get from your music?
Freedom.   Freedom to feel, to love, to get in touch with their deepest emotions.   I always said my ultimate goal as an artist would be to have someone use my lyrics in a love letter to someone.   I'm currently writing my next album which tackles my bisexuality, so I hope people find some freedom in those lyrics as well.
What do you think you bring to music that others do not?
I think we all, as a musical community, signed or unsigned, bring something to the table that changes the musical world in some way or another.   I think my uniqueness lies in my combination of folk, pop, and electronica.   Have others done that?   Sure they have.   But at this time in the field of music, perhaps my lyrics and arrangments are just a little different than everyone else's.
What do you want to be doing 5 years from now?
I would love to be writing music for film or tv.   I've never really liked performing; I'm a studio rat to be honest.   I love the mixing board and the effects and the arranging and the producing.   That's my passion.   So if I can sell my songs, possibly even a theme song to a tv show (fingers crossed!), and make money off of my music, I would be happy.   I don't need to tour or be a famous rock star.   I want to be known as a songwriter, someone innovative who is not afraid to push boundaries.
I'll be playing Freddy's Back Room on December 12th at 9 pm
485 Dean St
Brooklyn, NY 11217-2114
(718) 622-7035
 
Email: Susanelizabeth@susanelizabethsongs.com
www.Twitter:susansongs
www.Myspace.com/susanelizabethmusic
Author: Diana Olson — diolson05@yahoo.com