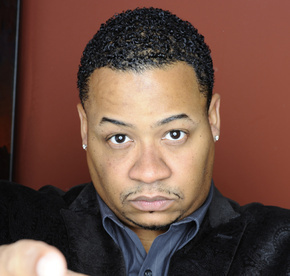 It was a nice Thursday night when the phone rang around 6:45 pm. On the other end was a mega producer by the name of Focus. Focus joined us from Atlanta and he wasted no time to get down to business.
Focus has been involved with music from birth. His late father was the bass player for Chic. His father was actually not to happy about Focus going into the music biz. Focus could not fight his calling and he went for it anyway.
It was not until Focus met up with Jason Weaver that things really got going. He relocated to Atlanta and began working with mega stars from Pink to Mary J Blige.
In 2001 Dr Dre caught wind of Focus and the rest is history. Dr Dre became a mentor and offered the greatest opportunity for Focus to learn from the best.
Focus has produced and wrote too many tracks to list but here are a few. Focus worked on The Game "Where I'm From", J Lo "Truth Hurts", Usher "Pop Your Collar", Beyonce "Yes", Mac Dre   "Get Stupid", Joe "Crunk Tonite", and so much more!
Today Focus is running his own company and he has his own roster of artists that he is unleashing on the music world. We get a solid fifteen minutes to chat with Focus about working with Dre, his own label situation, his first radio hit, and so much more!
[youtube LPDxAnVaM1s nolink] [youtube 9scL81wW_UI nolink]