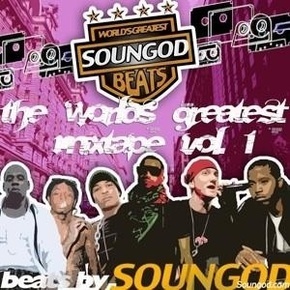 In his biography it says, "Talented Super Producer in the making Soungod is more than ready to make his unique mark on the music industry. His music is best described as a unique rhythmic style melding rock, digital, and hip hop components, with R&B undertones mixed with an eclectic selection of effects held together by complex syncopated snare beats into a sonic wonderland of sound. Soungod's most recent project is providing up-tempo tracks for the NBA's Washington Wizards and WJLA News 7 that airs the weekly TV program Wizards Magazine.
Soungod born Kevin Bain, in Trinidad, was brought up in a very musical family. Unexpectedly, at the age of 6 his mother left his father and took he and his 2 siblings to seek out a more promising life in America. Limited to   playing his music tonly certain hours of the day. Soungod soon learned to adapt to the shared bedroom and thin apartment walls and still dedicate himself to practicing his craft for countless hours on end.
Soon to be released on iTunes (December 1st, 2009) is his first solo album, 'Beat Mechanic'. The album, entirely instrumental, follows his stellar production work on popular underground remixes and mixtapes he has previously released. The album tells of the changes that Soungod has gone throuh over recents, the biggest of which being the 'switch' from actual mechanic to full time producer. It was this that allowed him to thrive off the new opportunites presented to him, to explore fresh sounds and develop his musical style. There are few producers better than Soungod when it comes to composing complex sonic scores that spark interest while being respected by the most mild of music fans.
Here is a link showing Soungod's work with the Washington Wizards basketball team:
"You can accomplish anything you put your mind to if you stay persistent and disciplined," explains the driven and dedicated Soungod, an innovator of sound who continues to set popular tastes while adventurously expanding his musical palette. I would like to give all up and coming pop and hip hop artist the chance to use this music as a canvas. Its not often that a producer of this quality gives the raw instrumentals to the world. I hope there will also be a number of fans who appreciate the background part of a hit song so much that they will take the time to appreciate this album. I have a number of friends who listen to this album in their car and just zone out to it. Each track has a different vibe. Ive been told that they can either imagine the song in a movie or their favorite artist using it.  
"I think the music shows the attention to detail. Each track is carefully constructed. each track is 100% original. I think it also says how Soungod can produce for both a Jay-Z with "Beat Evolution" and a Maroon 5 Adam Levine in " Believe in Me" . I have come to know two kinds of producers some use old records and take bits and pieces of other peoples work and make songs that way which can be fine but there is not as much musical skill needed as some one like Soungod who creates every single aspect of his songs from his own mind and plays them exactly the way he wants the song to go."
"Five years from now I want my music to be heard by everyone on the planet. I want it to be used as a tool for the next big pop star on his or her was to American Idol fame. I want my music to be used in car commercials and video games. I would also like to work with alot your favorite aritst whom ever that might be. I want to be working just as hard as I am working now no matter how far I get in life."
I am currently not performing anywhere but my productions can be heard at Washington Wizards games as well as by Hip Hop Artist (Adversary of 106 and Park Battle fame) and Alternative Artist (Ryan Hammer and Jake Gemmell).
Diana Olson – diolson05@yahoo.com