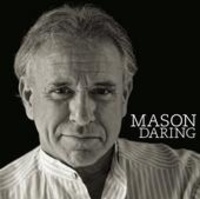 Mason Daring is a well-established film composer who has been hard at work since the early 70s.   Early on, the singer/songwriter performed solo at the Bull & Finch (eventually Cheers) in Boston and later toured & recorded as a popular duo with singer Jeanie Stahl.   He is highly recognized for composing scores for independent film director John Sayles.   This record is a break from the film music career so that Daring can focus on this new solo project.   It's not an escape from the magic of those musical compositions though, by any means, as this album encompasses an array of songs from his entire film music catalog.  
The new project includes numbers such as a cover of Ricky Nelson's classic "Travelin' Man", which had a very home-on-the-western-front appeal along with a truly rustic feel.   Other arrangements were also credited to other people/films such as: "Funny", which was originally done by Karen Ristuben, "Can't Get To Heaven From Here" comes from John Sayles' 1984 film The Brother From Another Planet, "People Are Talking" was originally sung by Kenny White in the Barnett Kellman film "Key Exchange" and finally "Too Much" was performed by legendary singer & trumpeter Doc Cheatam for an earlier recording released by Daring/Rounder.   This last installment of "Too Much" should not to be confused with the "Eat too much…Drink too much" version from Dave Matthews Band.   So much impressive history being portrayed here by Mr. Mason Daring as he brings the magic of movies to life through his own music & voice.
What I was really pleased about was the fact that Daring incorporated so many different styles of music into his recordings.   I heard elements of country, blues, folk, pop and even showtunes that Daring put together in such an imaginative way.   From what my ears experienced, I would call Mason Daring's sound Johnny Cash meets Elvis Presley meets Buddy Holly meets John Denver meets Wayne Newton.   The variety is plentiful on this record as Daring brings the best from his eclectic array of film scores.  
Mason appears, to me, to have an incredibly vintage tone vocally while holding onto a classic charm that surrounds him.   The song "Too Much" fully ties into this vintage charm notion as you experience simple pleasures at their finest!   The mode is highly easy-going & laid-back to go along with a light, jazzy feel.   Not to mention, this song sounds to me to be some cool daddy-o, finger-snappin' music from years ago.   The next composition, "Baby Blue", offered some golden rock & roll sound that appeared to be right out of the 50s.   Get your old 45s and vinyl records out, so that you can take a trip through time courtesy of Mason Daring and "Baby Blue"!   Next up, "Funny", supplies a sprightly showtune effect that adds in a classy & elegantly smooth touch of acoustic guitar.   "Lightship" is a pure feel-good moment that touches you inside while you get a heavy dose of country & folk on "Dixie Taps".   "Only For You" has a fun & chipper atmosphere, the closing number, "Soldier's Lullaby", has a special sentiment and "I Be Blue" proves to be moseying along quite nicely.  
Mason Daring has created an audio display of plush sound that is so colorfully put together here.   The range of musical styles is endless on this record as Daring brings his compositions to life.   For more on Mason Daring, his new release and his label Daring/Rounder Records, SKOPE out www.masondaring.com.  
By Jimmy Rae
[Rating: 3.5/5]