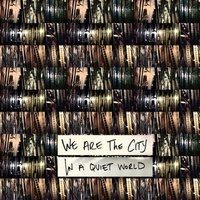 Youth is as much a blessing as it is a predicament. There's a fresh-faced innonence that captivates young people; this innocence has a way of underlining so many recordings from young rock bands as well. The riffs sound a little more immediate and a lot more pop-leaning. The vocals are brimming with life, if only a little too high pitched. And as the harsh winds of life on the road have yet to inflict the band's mental state, an optimistic and at times jovial sound permeates every tune. Soak it up while you can, I suppose.
All of the above work in favour of We Are The City, a three-piece out of Kelowna, British Columbia. Their debut, In A Quiet World is an eternally catchy pop-rock record that says a lot in a short amount of time. Frequent tempo changes and a range of melodies lead us to believe that not only is In A Quiet World the sound of a band eager to develop their sound, they're also hell-bent against being contained.
"There Are Very, Very Big Lights In The Sky" is a prime example of the band's resilience; at times an uninhabited punk angst and at times a spaced-out, Coldplay-esque bit of introspection, the track tops it all off with a rousing, "Ohhh…" sing-a-long. What In A Quiet World really means to We Are The City is anyone's guess. But when these three ambitious figure out exactly what direction they'd like to take their sound, I'd suggest you be there with open arms.
By Joshua Kloke
[Rating: 3.5/5]