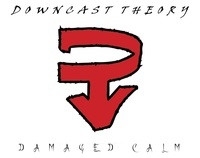 Downcast Theory is made up of Matthew Simon on lead vocals & guitar, Jake Raynor on lead guitar & vocals, Kenny Earl on bass and Matt "Raundawg" Raunick on drums & piano.   This NJ-based hard rock group is bringin' the noise in bountiful amounts.   So much raw energy is displayed by this group to the point that it's contagious.   Audibly, this exuberant amount of power & excitement is a pleasure to hear.
Damaged Calm is a perfect title because while listening, you experience some slower, calm moments and then other times you get that aggressive-sounding, damaged sensation.   You seem to get the best of both worlds here with some hard-rockin', heavy music mixed with some straight rock simplicity.   I was completely in tune with this record and what Downcast Theory was bringin' to the tables.  
The band chemistry is undeniable as Downcast Theory prove that their sound is fully loaded & that their group is no joke.   The record starts up with a song titled "Break Away" that simply just rocks the shit out of matters!   I'm hearing heavy-hitting, hard-edged music that just rocks and can't help but think Hell Yeah Baby!   Track four, "Change of Pace" has  Jake letting out some wicked, shreakish screams along with an intensely hot guitar line.   Next up, "Selfish", has an incredible amount of electricity that makes you feel like MC5 when they said "Kick out the jams!"   One song named "Not Your Soldier" has a very strong presence of hard rock guitar along with the drums being solid as hell also.   The title track, "Damaged Calm", seemed to be the perfect match for Downcast Theory as they bang their heads together in unison to become one strong force.   The "Jersey Boys" change things up a bit on "A Song for DJ" as they drop the heaviness and go for a bit lighter & subtle approach.   On this number, I hear a very cool acoustic guitar sound that seems to be fitting for the subject of the song.   This installment is actually quite sad because it's based on someone passing away as Jake Raynor's vocal performance is immensely moving.   On the next track, "For the Rest of My Life", you get a deep feeling of that big & loud presence of Downcast Theory.   This hard-rock group ends things on a high note with a song called "Shatter".   On this track, you get heavy anticipation toward the end where you feel this band is unleashing everything.   It seems that the Damaged Calm is complete at this time with everything shattering & exploding right before your ears.  
One element of this record that I absolutely loved was the electrifying guitar playing of Jake Raynor.   With so many awesome, kick-ass guitar riffs, it seemed as if Raynor was on fire throughout much of this record.   His fingers seemed to be fueling the flames as Jake played the hell out of his guitar.   The sound that he created was one that was rock-nasty and gave way to that golden rock & roll attitude.  
I'd like to add that there were even times when Downcast Theory had a style similar to that of Puddle of Mudd.   These moments were especially evident on the slowed-down verses where Simon really seemed to replicate vocal tones with Wes Scantlin of Puddle of Mudd.   I am a definite fan of Downcast Theory now and I'm sure this Jersey rock group will have many more to come.   For more on Downcast Theory and their latest release, Damaged Calm, SKOPE out www.myspace.com/downcastheory.  
By Jimmy Rae
[Rating: 4.5/5]