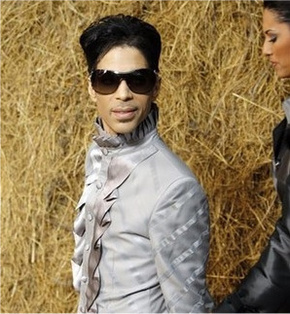 A couple weeks ago Prince did a couple impromptu concerts at Grand Palais in Paris after attending some fashion shows for Paris Fashion Week. Last Sunday Prince showed up at Bunkers, in the downtown Minneapolis warehouse district, where Mombos Combo was playing their regular Sunday night jam.  
Larry Graham (Sly and the family Stones former bass player) got up with the band and started to play a funk song.   Then Prince got up, grabbed a rhythm guitar and started to play along. They brought the house down.   Then last week Prince announced on his new official website www.LOTUSFLOW3R.com that he would be performing again at Paisley Park Studio in Chanhassen, MN.
Prince was famous for his legendary late night concert performances at Paisley Park in the 80's and 90's but the last time he played a show at Paisley Park was in 2004 in celebration of the release of his album Musicology.
[youtube eB5_yGttaw8 nolink]
After being in the music business for thirty years Prince showed his faithful something new Saturday night at Paisley Park in Chanhassen. The show advertised for 11 p.m. actually started at 11:10, unheard of at Paisley, where shows typically have started whenever Prince feels like it (often 1 a.m. at the earliest). For the first time, he offered a free shuttle-bus service so people could leave their vehicles at a nearby park-and-ride and take a plush bus for a 8-minute drive to Paisley. Another surprize was the ticket price for the concert.   In the past Paisley concerts cost about $50 but this time the cost was $31.21 for fan-club members and $40 for others.
Prince played for nearly three hours. He started with a number of songs from this year's "Lotusflow3r" collection and then went through his hits. Prince has never sounded funkier at Paisley and seemed happy, talkative, spontaneous and versitale.     He paid tribute to   the Time, the Doobie Brothers and the Jackson 5 and   acknowledged those who influenced him such as James Brown, The Jacksons, Rufus, Chaka Kahn, Stevie Wonder, Sly Stone, Joni Mitchell and Tower of Power.   Larry Graham(who by the way can still rip up that bass) sat in on bass for a series of Sly & the Family Stone tunes.
This performance showed Princes' love of funk and his incredible guitar skills.   He ended the show with "Purple Rain"   with the strength and grace it had when it first came out. The concert left locals wanting more and hopefully there will be a lot more Paisley Park appearances. Our local icon has taken his place again with a whole new generation of fans.
Diana Olson – diolson05@yahoo.com
Bunker's Music Bar & Grill
www.bunkersmusic.com
761 Washington Ave N
Minneapolis, MN 55401-1101
(612) 338-8188