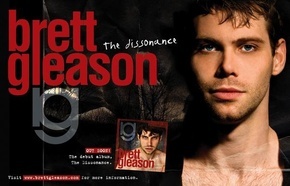 Brett Gleason's first solo effort, 'The Dissonance' is a unique fusion of alternative rock and electronica, combining the industrial production of NIN with the melodic piano of Tori Amos. Brett got involved with music early after a childhood accident left him with a severe speech impediment, leading him to a life of solitary contemplation filled with music lessons and literature.
After finishing his studies in music, writing and philosophy at the New School University in Manhattan, Brett dedicated himself to the recording process and now at the age of 26, has not only completed his first effort but written, played and recorded everything on it. Currently performing in the NYC area, Brett is preparing for a national campaign, writing a full length album album as well as completing a video for the first single, 'I Am Not'. Until the official release date of 1-10-10, Brett's extended EP, 'The Dissonance' is available with free downloads on his official website, www.brettgleason.com. He also has a myspace page at www.myspace.com/rockdictator.
I found Brett's music has a strange peacefulness and at the same time a troubling restlessness. His words are thoughtful and his music is put together with a masterful flow of conciousness. "The Worst Part" combines great keyboard, singing and some unexpected sounds thrown in that give the piece a real signature of this wonderful new artist. "I Am Not", his first single seems to scream out with the frustration of his past but has a haunting optimism to it.
I asked Brett about his childhood accident and how it affected him, he said"   My childhood was frustrating because I had an incomprehensible speech impediment, only my immediate family could understand me.   Fortunately, they helped direct my energy into not only solitary activities but expressive ones like music, writing. Organized communication became very important. The value of words took on strong meaning as I learned that even with them, much is left unsaid.   Music and sound represent the unspeakable".
What did you do when you felt like giving up?
"I know how to direct my frustration into work so as long as I feel good about it, I'm okay.   The only drawback to this approach is you can't stop so giving up or even resting isn't an option."
Do you have any plans or ideas for another cd and do you have any touring planned? "'The Dissonance' is an extended EP so I'm busy writing my first full length.   I've been playing new songs live and expect to have my newly assembled backing band on the next record as opposed to playing everything myself.   I do however, plan on doing a bi-coastal tour by myself sometime after the official release January 10th."
What do you think your music says to people and what do you want people to get from it?   "My music is pretty dark and brooding but ultimately redemptive, so far.   I open my eyes wide and though I don't usually like what I see that's okay, I can handle it.   I can ask questions, not find answers and accept this. At times I may despair, relent, even panic, but ultimately I find balance in a song."
Author: Diana Olson – diolson05@yahoo.com