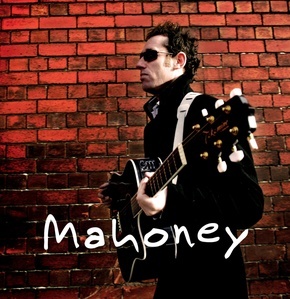 My next guest is a musician by way of Dublin, Ireland. This musician goes by the name of Mahoney and he is ready to show the US music lovers that his music is as good as a pint of Guinness. Mahoney recently released his solo album, 'Love Child.' I gave it a listen and it is an upbeat and fun album that keeps the listener interested the whole way through. It does not hurt that he worked with industry folks that also work with Madonna, The Script, and U2, just to name a few. In   honor of Ireland, grab a Guinness or Jameson and sit back and meet Mahoney!
Stoli: I just finished listening to 'Love Child' twice, I love it! How long were you writing & recording this album?
Mahoney: Thanks, I am really happy you liked it! It was chosen from 24 songs which were written over a period of five years. The album was then recorded over a period of 5 live sessions which took just over a year to finish.
Stoli: What is the most personal track on the album and what does it mean to you?
Mahoney: I would have to say "Calling on Angels". For me the track is about time going so fast and the difficulties people have with expressing themselves openly to the people whom they love. I'm sure this is a song everyone could relate to at sometime during their lives.
Stoli: What is the live scene like in Dublin and what are some of the venues you came up playing?
Mahoney: It's still as vibrant as ever where thousands of musicians and singers are on their journey to try hitting the BIG TIME! Dublin has no shortage of talent, so it is very important to keep working hard. I've played in most of the top venues in Dublin such as the Olympia Theatre and Vicar St, as well as playing regularly on the regular live music scene in venues such as Gibney's of Malahide, Fitzsimons and Buskers in Temple Bar.
Stoli: You have a strong Irish accent. When I listen to your music I do not hear it. How do you explain that or is it natural?
Mahoney: Great question. The simple answer to this is it's who I am. Lyrics are meant to be understood and portrayed with the emotion required. If I was to sing in my Dublin accent (which is the best accent one can have) I would be hard to understand and would not be able to deliver my vocal to the level required to be a great singer.
Stoli: Your songs are personal but I find them to be upbeat. How much of your personality is expressed through your musical sounds & instrumentation?
Mahoney: A lot! All the lyrics and melodies are done by me. The rest of the musicians were then brought into the studio where we gave them the vibe for each song and they played what the song needed. All the lads who played on the album are top class. It's a live studio album and which I'm very proud of.
 
Stoli: You are getting ready to cross over the Atlantic into the USA. Your first stop will be Boston, MA. Was Boston's heavy Irish-American population the major reason for that starting point?
 
Mahoney: I'm happy to start anywhere in the States. When performing in Dublin I have found that the American people on the audience always give a huge response and are very supportive to me. The intention is to base myself between Ireland and the U.S.A over the coming years…fingers crossed!
Stoli: When you come over to the USA, how will you keep in touch with loved ones back in Ireland and do they support your career endeavours?
 
Mahoney: My Parents and family have great belief in me and support my dreams, so I'm a very lucky guy. During the tour I will stay in touch through email, face book and by phone. I can picture a lovely phone bill waiting for me when I get back home.
Stoli: Out of all the solid tracks on the album. How did you decide to go with "Love Child" as the title track?
Mahoney: When we were in pre-production of the album, it was the track which caught the attention of the producers, engineers, and my family and friends. The words "love child" has identification with everybody too. Maybe you can go a far to say that the album itself is my "Love Child" with all the work that has gone into it.
Stoli: My favourite track on the album is "Mid Air." What is that track about and where did you record that track?
 
Mahoney: All of the tracks were recorded at Cauldron Studios in the centre of Dublin. "Mid-air" is about the pressures of sustaining a lifestyle which you cannot afford, which is what Dublin in now like, and the fact that your world will come crumbling down at some stage if you remain oblivious to your luxury living.
Stoli: I love Ireland. My girl is Irish and my favourite beer is Guinness. I plan on visiting Dublin, so tell me some places I must visit to experience Irish drink & music?
Mahoney: The Guinness and Jameson brewery tours are a must do. Make sure you visit late afternoon as they have free tastings all day (free booze) from there if you are still standing head towards Camden Street and Temple Bar where you will hear a session soon enough. Outside head to Malahide Village and go into Gibney's, ask for Tony and he will give you a beer from me! I will let him know you are on your way.
 
Stoli: What can American music lovers expect when they go see Mahoney live in their city?
 
Mahoney: A really great night out. Passion and plenty of it. I give an honest yet creative performance with mood changes packed with emotion, vitality, and humour. Everybody will be movin to the groove!
 
Stoli: Besides money & fame what is it about music that makes you so passionate and dedicated to it?
Mahoney: I've a very realistic, positive approach to what I do. Humble but I believe in my ability. I've a strong desire to improve continuously on my vocal performance and my song writing. The bottom line is it fires up my whole being every day; it's the first thing I think about when I wake up and the last thing I think about before I sleep. You can't beat that feeling.
 
Stoli: You perform various covers during your live sets. When did you start doing that and how do you merge your original songs as well?
Mahoney: Combining originals with covers is a great way to test your own music. When you're ambitious about writing songs that will appeal to a worldwide audience you have to find out if your song is good enough. Check to ensure that it is not out of place after a Beatles, Cold Play or Beyonce song. When you are then asked who wrote that song? Who sings that song? Or did you write that song? Then you know you're on to a winner. I first began with 2 originals in the set "She's a Miracle" and "Love Child", now I do more originals than covers. It's really a case of being truly honest and open with your song writing and looking for feedback. It also ensures that your audience have a good night out as I believe it will take another 10 years before I can do a 2 hour set where all the songs are known!
 
Stoli: What is coming up for Mahoney and where can readers get more from you & your music?
Mahoney: My tour dates are up on the website www.mahoney.ie and you can also buy the album from the website. When I return from the States there are plans for an Irish tour which will coincide with the single release of "Calling on Angels". We have plans to return to the States again in the spring of 2010 with a tour which so keep a close eye on the website and facebook,etc..for dates and venues. I hope to see you all at a gig soon…
 
Thank you for your time and wishing you the best for the future! Mahoney.