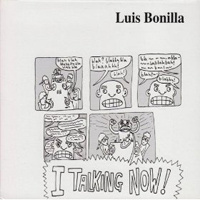 Sit down and fasten your seat belt before hitting "play" for this album, because Luis Bonilla is talking now. It's going to hit you fast, and it's going to hit you hard. In fact, in the opening/title track, you might have a 4-minute "WTF?" moment as Luis Bonilla and his band prove that their finger dexterity is unmatched as they rattle off complex, fast-paced riffs that prove that Luis Bonilla isn't the only one who's talking now. The whole band is talking, and the members are all talking at once.
The album may start off on a hectic note, but it's certainly not a bad thing. And the track goes to a mellower place at around the 4-minute mark, where the rhythm section breaks it down in a much more laid back manner, backed by some well-placed dissonance from the winds. The track ends on a hectic note, at which point you realize you've just had one of the most interesting conversations of your life.
But it's certainly not over. Bonilla and his band continue to play with mixing complex, dexterity-ridden melodies with simpler syncopated rhythms and solos that cement the fact that these musicians are phenomenally talented. The individual skill and mastery of the instruments combines to form amazing collective that equals one conversation you don't walk away from willingly. Even though you can't get a word in edgewise. Not that you'd want to, you'd really rather just listen as these guys prove they know more about everything than you do.
"Closer Still" does something interesting: slows down. The guys who make you work up a sweat just listening to them present a beautiful ballad. It's still certainly not lacking in notes, as the instrumentalists pepper the simple melody with lightspeed runs. The saxophone and trombone alternate between tight harmony and unison, which makes this song unexpected and refreshing.
Aside from the fact that the music is tight, fun, and ridiculously good, the album art is funny and clever. This is definitely not your grandfather's jazz album. The cover is, well, covered in cartoon drawings of people, instruments, flashlights, and angry eyebrows. And even Bonilla's web domain is clever: trombonilla.com. It makes me wonder what instrument he would have chosen if his last name were different.
Review By: Valerie Williams
[Rating: 5/5]