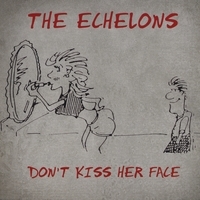 First thing I see when I look at the front cover of The Echelons' Don't Kiss Her Face are two cartoon characters with serious sexual innuendos.   One character is portrayed as an attractive woman all dolled up while putting lip stick on & looking at herself in the mirror.   She is depicted as wearing some very short shorts with the booty sticking all out & about in the air.   The other character is a male with slicked-back hair, some wild, poca-dotted pants and a very big grin on his face.   He is grinning because he is enjoying the view of the woman's ass looking straight at him.   The Echelons say to Don't Kiss Her Face, but I don't think they have to worry about that based on the front cover.   The male cartoon character, we'll call "Slick Willie", only has one thing on his mind and it's surely not her face!   Just from the cover, you get themes such as: vanity, women depicted as perfect & pretty sex objects and stereotypes of men being men.  
Moving on now, The Echelons are bringing a formula to the public that we haven't seen in years, which is the family group.   The group is made up of the father, Ben Petrella, on vocals & guitars, Ben's daughter, Jessica Petrella, on vocals & keys and Ben's son, Louis Petrella on vocals, guitars and keys.   To mix things up a bit, they added two next door neighbors that are pretty much like family: Brian "Binger" Santo on vocals and bass and Brandon Grande on drums.   They may be a family-oriented band, but this is no Partridge Family or The Osmonds by any means.   The Echelons have a fresh sound of their own that is both original & current.
Don't Kiss Her Face has elements from so many different genres of music, which I simply love.   I heard some real poppy moments mixed with some alternative & rocked out modes with even some elements of punk rock.   They seemed to have a real cool, garage band effect on this record, which was quite infectious to hear.   All members really came together to play as a unified team or in other words like one big happy family.
Two aspects really stuck out to me on this album and that would be the performances by Jessica & Louis Petrella.   Jessica just being 19 years old and Louis only 12 is amazingly unreal the talents they already display at such young ages.   Jessica's singing had a very free-spirited-type-of-flow sound to it along with a beautifully-toned voice.   She really sang her heart out here in a soft 'n' sweet manner yet being deeply impactful toward the listener.   There's one line from the title track, "Don't Kiss Her Face", where Jessica says "She aint got a face until she puts it on in the morning" touching on my earlier points of being vain & women dolling themselves up to become sex objects.     Now onto Louis who plays the heck out of the guitar at just age 12–no way!!   What I heard were some great guitar lines, rockin' solos and there was nothing amateur-sounding about it.   This Louis Petrella is the real deal on guitar and he has a bright future ahead of him as a musician–no question!   The youngest member of The Echelons, Louis P, gets my vote for the major WOW factor on Don't Kiss Her Face.
The Echelons came up with the name due to "each member being from a different "echelon" in his or her life".   This concept all makes sense now, but one thing is for certain and that is that each and every member is headed in the right direction.   For more on The Echelons and their new release, Don't Kiss Her Face, SKOPE out www.myspace.com/theechelons.  
By Jimmy Rae
[Rating: 4/5]