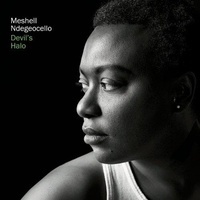 There are very few musical performers today who can be described as musical artists. Meshell Ndegeocello is one of the few though. The genre-bending singer who is one of the best bassists, male or female, of her generation has been releasing plenty of fine, yet underrated music for a good two decades now.
Ndegeocello has remained under the radar for so long because her music is some of the most creative around as it is a combination of various sound styles. It isn't uncommon to hear hip-hop, jazz, rock, R&B, funk, and dance influences in her music. Sometimes, a bunch of those sounds can even collide in the same song.
While this unique love for making unclassifiable music has made Ndegeocello something of a cult artist to some, it is easy to forget that the woman who once was signed to Madonna's Maverick record label knows how to deliver catchy pop songs too. One listen to her unforgettable duet with John Mellencamp on the Van Morrison cover "Wild Night" is proof of that.
So, with this in mind, there is always wonder as to what Ndegeocello's next cd will sound like. Well, her newest, Devil's Halo, is yet another surprise which finds the bassist making a moody, yet soulful recording that also focuses on great interplay between her and her impressive band.
What is most interesting about Devil's Halo is that while it is moody, its best moments can't be classified as quiet. The opening track, "Slaughter," is a winner as it opens with Ndegeocello's gentle vocals but guitarist Chris Bruce's hard rock riffs kick in less than 40 seconds later and the song continues to juxtapose a soft-loud dynamic the rest of the way. The sound is perfect for the song's lyrics which deal with a rather dysfunctional relationship.
Later on, Ndegeocello and her band continue to astound with tracks such as "Lola" and "Mass Transit." Both tracks are busy with numerous time signature shifts, spooky guitar lines, and a driving beat and the lyrics deal with complex romantic issues.
The highlight of this record, however, is something that is downright dazzling. Ndegeocello covers the 80s Ready For The World hit "Love You Down" and makes it her own. Backed by a simple, yet effective drumbeat, the singer sounds like she is ready for her neo-soul moment with an honest vocal reading but she throws a brilliant curveball to the track's ending with a shimmering guitar solo that reminds one of the quieter moments on past TV on the Radio discs.
Sadly, some of the rest of the songs on Devil's Halo fail to deliver like the ones mentioned above. "Tie One On," "Hair of the Dog," and the title track sound more like interludes that are just segue ways to what is next. Things do get better near the disc's end with the accessible 1-2 punch of "Bright Shiny Morning" and "Blood on the Curb" but the last two songs, "Die Young" and "Crying in Your Beer," are too soft and quiet to resonate much.
Nevertheless, Devil's Halo is a fine addition to Ndegeocello's catalog because it continues with her tendency to record music that is an honest representation of her–someone who enjoys diversity and complexity and never takes the easy way out.
Author – Todd Sikorski
[Rating: 3.5]