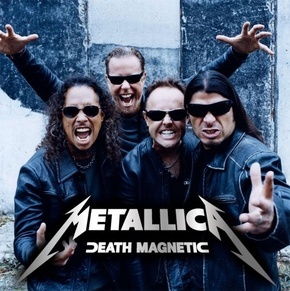 The kings of metal made a stop in Indianapolis, Indiana on September 17 to play for thousands of screaming fans. I speak of none other than Metallica who rocked the shit out of the stage at Conseco Fieldhouse in Indy. I really don't know when these guys will stop touring or making music, but one thing is for certain: THEY STILL FUCKIN' ROCK HARD AFTER ALL THESE YEARS!
It all started with Kill 'Em All back in '83 and Metallica has not looked back since making one great record after another. I have always thought that Black Sabbath, Led Zeppelin and Deep Purple started this whole concept of "heavy", hard-hittin' music and Metallica has since carried the torch proudly. And it's ironic that all three of these influential bands started the same year back in '68. I would consider Metallica to be today's version of Black Sabbath as they prove day in and day out that the sheer power of metal runs through their veins. Even more fitting that Metallica joined their metal predecessors in the Rock & Roll Hall of Fame this year. Oh wait…except for Deep Purple…wtf!?…Something's wrong with this picture??? Going away from that discrepancy now, I just want to add that Metallica definitely deserves this high honor as they have proven to be the baddest metal band around for the last 25 years. My hat's off to you gentlemen on a stunning career thus far and hopefully more kick-ass shows & top-notch albums to come.
Now onto the actual concert, which started with two high-energy acts known as Gojira and then Lamb of God. Gojira said that they "came across the ocean waters", which adds up to them being from France. These French rockers proved that metal is alive and well in their native land. And then the pure adrenaline-rushed sounds of Lamb of God came pumping through the speakers. Lead singer, Randy Blythe, displayed an insanely aggressive amount of energy that he poured out to the large crowd. And in case you didn't know, Blythe stressed to the audience that Lamb of God is from "Richmond Fuckin' Virginia!" Drenching himself with bottled water and then forcefully pitching the bottles into the crowd was a regular occurrence for Randy B during Lamb of God's set.
Now, the moment that my brother and I were waiting for–a chance to see one of our favorite bands, Metallica! This being our very first actual Metal concert, we were expecting one hell of an experience. Nothing short of a thrill ride experience was the feeling we both received when Metallica tore through their hits. These undisputed heavy-metal champions of the world proved to my brother, Jonathan, myself and all the fans that night that they are still on top. They mixed it up nicely with six songs off their new record, Death Magnetic, which is a phenomenal album. I heard songs from: The Black Album, Kill 'Em All, Ride the Lightning, Master of Puppets & …And Justice for All. Classics such as: "Master of Puppets", "Enter Sandman", "Ride the Lightning" and "One" were all performed. Also, off the famous Black Album and personally my favorite Metallica record I got to hear "Wherever I May Roam", "Nothing Else Matters" and my all-time favorite Metallica song "Sad But True". "Sad Bad True" is such a kick-ass song that hits hard 'n' heavy every time you hear it. Hearing this song on CD for so many years now, I was so excited to hear it live & loud. The raw power & energy that this band brought to the arena was just incredible. James Hetfield brought his patented testosterone-driven vocals to the table while Lars Ulrich played those drums like there was no tomorrow. Kirk Hammett added some truly awesome guitar solos that have always been a huge part of the Metallica sound. Robert Trujillo contributed some stellar bass lines and he even did his famous helicopter spin! The mighty men of Metallica ended the night with one hell of an encore that I'll remember forever. The final song was "Seek and Destroy" as James, Kirk, Lars and Robert appreciated all the intense support that the fans were giving them. In return, the metal gods were giving this intensity right back to the audience in full effect. It was an amazing feeling that was surrounding the entire arena and my brother and I will always remember this concert. All black beach balls with Metallica written on them came tumbling down from the rafters at the end of the show. And then, all members circled the stage and threw souvenirs like guitar picks into the crowd. This lasted for quite awhile with items galore being thrown out, which showed how much Metallica appreciates their fans and how much they mean to them. A definite fine moment for both the band and the fans–Everybody won on this night of metal madness. Hetfield said it best when he stated "Thanks for celebrating life and heavy music with us".
Overall, I was blown away by Metallica as this will go down as one of my favorite concerts. Only a few things missing though: songs such as "Fuel", "For Whom the Bell Tolls" and maybe "Creeping Death" along with a one-of-a-kind Lars Ulrich drum solo. But besides that, we also were witnesses to some cool-ass laser light displays, actual fire shooting out of the amps/speakers and lights in the shape of big coffins. What more can you ask for from one of the best bands on the planet! Jonathan and I are definitely Metallica fans 4 life! For more excitement on Metallica, SKOPE out www.metallica.com.
By Jimmy Rae