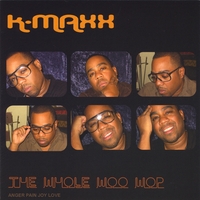 Okay, first off let's clear up what the meaning behind the title means because I'm sure that's what you're asking yourself.   K-Maxx states that The Whole Woo Wop is actually a slang term that means "all encompassing".   This pertains to all the emotions/feelings that have surrounded K-Maxx in the last few years.   I'm glad we got that out in the open because I thought maybe Diddy formerly known as Puff Daddy & P. Diddy possibly came up with a new name for hip-hop and I missed this–shewww! Lol
All jokes aside, we can now get down to business and talk about this K-Maxx and his new record.   K-Maxx is a San Francisco Bay Area native and he is also known as Kenyan Hopkins.   This entire album was produced, arranged and performed by Kenyan "K-Maxx" Hopkins.   All guitars, bass, keyboards, programming, hooks, lead and background are done by K-Maxx with the exception of track 6 featuring Ari Nicole.   All songs were also written by K-Maxx except for the guest lyrics on tracks: 4, 5, 7, 8 and 12.   Some very talented artists in their own right joined forces with K-Maxx to contribute to The Whole Woo Wop.   Young Skitz, Andre Nickatina, Fed-X (Mob Figaz), Zumbi of Zion I and Mano Negra are the guest musicians on these tracks.   So, right off the bat it seems that K-Maxx is one talented guy with a lot to offer musically and artistically.   I have to say that I'm very eager to hear how this record will play out, so let's get into this shit!
Right from the beginning, I could already tell that the production was on Q with a very professional display of clean crispness.   The overall effect that I heard was a very polished layer over the music.   K-Maxx is bringing the best of both worlds together here: Hip-Hop & R&B.   You get some fresh rhymes and then some nice, soulful singing thrown in for fun.   The beatz are phat to say the least with some killer hooks to die for.   The sounds that K-Maxx creates here really just blow my mind because they sound so dope.   There is a cool flow that K-Maxx exhibits plus he comes across in it in a very original manner.   It's refreshing to not hear bitch this, ho that and trick please constantly as K-Maxx appears to be bringing us a sophisticated brand of smooth Rap/R&B.  
The only fault that I could pick up on was that Hopkins sometimes annunciated his words in an off-track-kind-of-manner where it didn't seem to mix together, at moments.   Other than that, I did enjoy the album very much so as it seemed to offer real musical substance here.   It's worth mentioning that you can catch K-Maxx on his "Ghetto Gumbo" radio show that airs Friday nights on KP00 if you're in or visiting the San Francisco area.   I'd like to end this review with two stand-out lines from two different songs that are just rock solid: "That's why I talk with my middle finger" from "The Price" and "Keep Spittin' and rappin' what's real" from "Til' Then".   These are true-to-the-times rhymes that K-Maxx spills out and that's the low-down-dirty-truth baby!   For more on K-Maxx and his new record The Whole Woo Wop, SKOPE out www.kmaxxworld.com.
By Jimmy Rae
[Rating: 3/5]