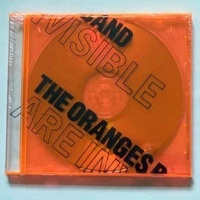 Let's all raise a glass for The Oranges Band. On The Oranges Band Are Invisible, the Baltimore smart-punk outfit combine blue-collar, everyman aesthetics with a sound that's thick as nails. Tangibly reminiscent of some of the bands which have influenced them in some form or another, including Spoon and Guided By Voices, The Oranges Band Are Invisible leaves nothing to hide.
Fronted by Roman Kuebler of Girls Can Tell ¬-era Spoon fame and ex-Guided By Voices guitarist Doug Gillard, there's a chunky, make-what-you-will-of-us vibe that rolls rather smoothly with their, but-we-don't-give-a-fuck attitude. Riff-heavy, songs like "Do You Remember Memory Lane?" will render listeners at the behest of their stereos, all the while searching for memories that are as punchy as the nine tracks on this doozey of a record.
The Oranges Band Are Invisible isn't all gut and muscle, however. "When Your Mask Is Revealing Your Future" finds the band diving into a funky, female-vocalist backed shimmy that is part R.E.M. and part Flea-inspired Red Hot Chili Peppers breakdown. With multiple listens comes the realization that there certainly are layers to The Oranges Band Are Invisible, though the record truly gains steam when they stick to the above mentioned gut and muscle.
"ArtStar" beats an oddly, surf-rock chorus into something that wouldn't seem out of place on a Sonic Youth record. While I realize I'm dropping a lot of names here, it's blatantly obvious that The Oranges Band are a talented group of musicians with a wealth of experience to draw. The end result is a record while full of a few oddballs, is certainly a hell of a lot of fun to listen to.
By Joshua Kloke
[Rating: 3/5]