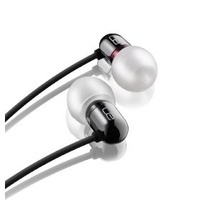 I was fortunate enough to get a pair of Ultimate Ears 700 headphones. When I first opened up the package I was shocked at how little the ear plugs were. My girl can never find earphones that fit in her small ears so in that regard we had already found something we liked about the 700's.
I wanted to try the 700's in the place where sound means the most to me. At 5 am when I am getting into my workout I need to hear the music, loud & clear. One thing I must add is the cord is long enough that it does not interfere with my arms or legs movement at all. This is important whether you are walking around Boston or on the treadmill. The headphones help me get in a zone and not hear anything around me, just the music.
First I tried the 700's with my ZUNE player. The sound was great. I listen to alot of hip hop so I need to hear the beats and the bass. The 700's delivered in that regard. I also tried the headphones with my CD walkman. The sound was good enough but I immediately knew why these 700's are built for the Ipod.
The ultimate question is whether or not I will use the 700's after this review is posted? The answer is a strong "Yes." I must note that I will be sharing them with my girl who is excited to finally find headphones that fit. We are both shocked at how much sound can come from an earplug that is so small. If you have the means to cover the $229 you will immediatley know you got your money's worth. I plan on using the 700's for many workouts to come.
Review By: Mikey Frieds
[Rating: 4/5]
UE 4 Pro Custom Monitors:
For emerging artists who need to hear more detail and accuracy than even high-quality earphones can provide, Ultimate Ears makes the UE 4 Pro Custom Monitors. Every pair is personally designed for each artist or audiophile by an audiologist who takes impressions of the ears and ear canals. Then those impressions are sent to Ultimate Ears, where a pair of custom monitors is created based on an exact replica of your ears. As a result, the UE 4 Pro Custom Monitors can fit better than even your favorite pair of jeans. For more information, visit http://ultimateears.com.