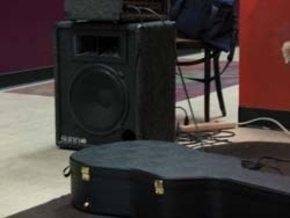 After our initial open house, where you saw the contents of our little virtual music club here at Music Up Close, we will be highlighting different rooms each month, but always ending with our cocktail meet-and-greet at the SonicBids Lounge. For September, Club Ladies brings a look a Teisha Helgerson, the frontwoman for the band Amelia. Her early exposure to music has been keeping her spirits high, even when facing some difficult life events. The Studio's reviews this month feature beatbox artist Heatbox and some great rock from Sci Fi. Finally, our meet-and-greet in the SonicBids Lounge has us rubbing elbows with some very talented new artists.  
So, come on in, and let's get up close with music.
Club Ladies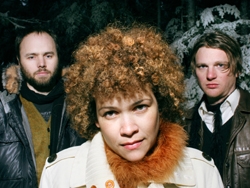 Club Ladies: Teisha Helgerson of Amelia
Teisha Helgerson, the frontwoman for the band Amelia, has a rich vocal instrument that has been honed by a family that has a deep tradition of singing. "I thought all families sung. I didn't realized until I was much older that most people don't," Helgerson said. " My grandpa is 83 and he has a beautiful voice. He always tells me to keep using it and you won't lose it."
Her family band played what she calls "good timely music," but mainly lots of covers: Bonnie Raitt, Al Green. "Then we started writing songs, and that project stayed in the basement for a couple of years. Finally, we played an open mike on a rainy Monday night in a downtown club. From there, we got some gigs around town." When they were scheduled to play at the local Buffalo Gap, Helgerson went down to check out the venue.
"I sitting in this place, having a beer, watching this guy, Warren Hash, who as the story goes wrote that song, 'Private Eye,' by Daryl Hall and Jon Oates. I'm watching him, and this guy comes in late. He ends up plugging in and playing bass for him." That was Scott Weddle, who chatted up Helgerson after the gig. It was apparent to both of them that they had some sort of chemistry.   "And that chemistry is what you hear in the music," she said. "I knew right away we would be playing music together." Weddle heard her sing at her family's gigs and shared some music with her.
Weddle had been played guitar in an alt-country band called The Flatirons with lead vocalist Wendy Pate, guitarist Jason Okamoto, bassist Matt Voth, and drummer Richard Cuellar. Weddle and Helgerson met after the band broke up. "Scott sent me Prayer Bones, the first Flatirons CD (1999), and I fell in love with it," Helgerson said. "I think I kind of fell in love with him, too."
As Weddle began to share some of the songs he had been writing, Helgerson began to learn them and adding her own distinctive style to them. "One of the first songs he played me was "Wings," which is the first song off our first album. When I met him, he had maybe three songs. "Lingerer," "Edison's Last Breath," and "No Valentine" that he'd written already. He wrote over the course of that summer and fall, and we started recording that following year. Scott wrote the whole entire first album and found the producer Mike Coykendall got us set up. We released our first album in November of '02."
That was Somewhere Left to Fall and was recorded with former fellow Flatirons members Richard Cuellar, Jr on drums and percussion and Jess Emerson on bass on loan from the Decembrists.  
"Scott's very talented, and he's a workhorse,." Helgerson said. "I'm super lazy. I play guitar and I play drums in the band sometimes. That's all because of him." She also writes a few songs. "I'm a little shy about it because I'm in a band with such great songwriters." On their second album, Helgerson offered a couple of songs, including the sultry jazz number, "Better Than Sleeping Alone." And on their last album, she wrote, "Try," a country song, and "Sugar Falls." "Regular writing isn't that way for me,"Helgerson admited. "But songwriting, I guess I have an intimidation factor. It's something that you have to be open to. You have to sit. I imagine it would be easier for everyone else in the world, except for me. It's really not that hard; it's sitting with the intention of letting it come and listening and interpreting what you're hearing."
Helgerson admits, though, that she suffers from what she calls "Red Light Fever," nervousness when the recording light goes on in the studio, but it doesn't affect her on stage. "Singing on stage feels right to me. I know that I'm supposed to be there. When I come into the studio, I'm sheepish." She struggled with herself to get the material down and three more albums followed with Helgerson's versatile voice taking the music and lyrics to deeper waters. Each album showed her versatility with phrasing not only in English lyrics but those in Spanish and French. After All came out in 2004, and the live album, Por Avion, was released in 2005. In 2006, drummer Richard Cuellar, Jr left to become a tattoo artist, and Amelia became a trio. They finished their last album, A Long Lovely List of Repairs, in 2008. "Three week later, I was diagnosed with Leukemia,"Helgerson reluctantly admitted.
That would have slayed many people. But not Teisha Helgerson. What was every crazier: She wasn't even feeling ill. But those around her weren't quite so brave. "The day I found out, we played at a Starbucks," Helgerson said. "I remember looking at Scott and he not being able to look at me. He got choked up, and I got choked up. He came over a couple of days later to where I was living and said, 'I don't know if I can do this. I don't know if I can play music with you with this happening.'
Perhaps it was the strength her family had given her when she was young–and still gives her–that said faced this monster head on. "I said, 'Hey, we're not going there. That's not how it's going to be. I need people around me who are confident that I'm going to be OK. So, you need to make a decision. I can't have you looking at me in tears every time we're together either.' We both sort of got over it right away."
Helgerson had a bone marrow transplant that set her life back on track. Though it took a long time for her energy levels and her voice to come back, she and Scott Weddle began writing new material and slowly working it up, recording each track as they were able. "It's a very comforting feeling for me to put stuff down and know that there's a permanence to it and that people will hear the music," she said.
Today, Helgerson is doing well, playing fundraisers in Portland and even a gig or two with her family. "These couple of years of relative hardship have been a real gift in sorting out what's important. What I know now is I get to be healthy again," she admitted.   "I have great friends, and I have a great family. I have a strong body and a wonderful doctor. It's taught me a lot. I have a new sense of courage and a renewed joy for just the miracle of being in this day, in this moment. There is gratitude."
As for music in her future, Helgerson said excitedly, "It's not a matter of will we continue to do it. We like it. Musicians are who we are. We will continue." Helgerson and Amelia's recent struggles, ironically, may have been just the catalyst that is helping her be more comfortable recording. "I'm learning now to mentally walk into that space, give myself to it and not be afraid of it, and have that feel that it's the right place for me to be."
One thing is certain. We all are richer for hearing Teisha Helgerson's voice, whether live on on a recording.
The Studio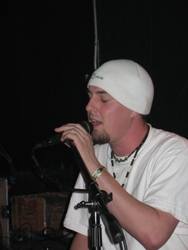 Heatbox
System
Indie recording
Minneapolis beatboxing artist, Aaron Heaton often has audiences open-mouthed. Not everyone can believe that all of that honey and fiery lava coming from the stage is actually coming from one man's mouth. Performing as Heatbox for the past six years, Heaton has created a one-man show that has to be seen to be believed. What is so incredible isn't just that the music and harmonies are coming out of a single set of vocal chords and lips but that Heaton is doing all of it with such incredible finesse and musical accuracy. You would swear from just hearing his latest album, System, that he was accompanied by a backup band and singers when in reality you're hearing just one incredibly talented performer.
Heaton knows his vocal instrument well. He's been singing since he was ten and grew up singing in Minneapolis school choirs and doing a lot of musical theater. He then branched out to perform with the funk/rock/blues band City Collective, adding not only his rich singing voice, but his vocal beats.  
He's the first to admit, though, that he's not an experienced musician. "I play the drums, the keyboard, and the bass–all badly," he says. " I played the tuba for a long time." Still, he hears all of that inside his head.
Style-wise, Heatbox offers a mix of genres. Sometimes, there is that silky doowop sound of the 50s with tight, blended harmonies that reminds you of the Nylons. Sometimes, there is hip-hop. Sometimes, there's jazz and reggae. Sometimes, there's just the fun and eccentricity of Bobby McFerrin. "It's all me," Heaton says. "I use a pedal that's called a loop station. It lets me record myself live and sing with myself." He also provides all of the sounds of the musical instruments. You'll hear beats and other kinds of percussion, including quiro. You'll hear horns and keyboards. Sometime, you can even hear a guitar thrown in. But mostly, you'll hear these incredible vocal harmonies.
First album, Entertainment, was released a couple of years ago in response to fans wanting something they could listen to when they couldn't make it to a Heatbox show. They clamored for his "Bitches from the Milky Way," a song that really isn't offensive even though it keeps using the word "bitch," but Heaton, with his boyish charm, desensitized the word and soon has audiences singing along. There were love songs and fun songs and songs that just stretched his creativity.
Heatbox's latest album, System, which came out this spring, has a dozen new songs that cover all of the above. His "Remembering Me" echoes the 50s doowop he's known for.   I've seen him live layering a song like that, putting down the instrument tracks instrument by instrument, looping them while he laid each background harmony, and then singing over the top of that. The vocal blends are incredibly accurate and, of course, his lead work is effortless. But the instrumentation isn't corny. It's just there, sounding incredibly like real musical instruments.
"Man Vs Machine" and "Suburban Dessert" dip into hip-hop, but "Suburban Dessert" has an undertone of the Diamond's "Little Darlin'" while sounding very 21 st century urban.
"Satisfied" is a lovely R&B tune, and "Good Kinda Usin'" is a strict 50s number and done so slickly.     His "I Need a Jack and Coke" is a Zappaesque rendering done only as Heatbox could—and must make a great club offering. "Pizza Funk," done in a huskier vocal register, is a tip of his hat to "Bitches from the Milky Way,"only with a touch of those silky background vocals.
Then there's "4 Turntables," a pure DJ offering, but done with vocals, and   "Another Plan I," a pure "instrumental" that's very tastily done.
"Enter Balgator," however, must have a tiny bit of some electronic help, but don't quote me on that. The cymbal tink could be synth generated, but that is so out of Heaton's expertise I doubt he would have done that. This track could be a fun video game soundtrack.
The album ends with "Goodbye Outro," a sort of boy-band combo of oohs and ahs, that is so smooth. In addition, as in Entertainment, System offers a track of what Heaton calls "Heatbox Tricks" This is a collection of beats, sound effects, and other of his signature vocal spins.
I think the thing I enjoy so much about Heatbox is that he gets me really enjoying trance, hip-hop, and   electronica in a way I never would. It is definitely the warmth of his sound because it is organic, coming from a human being, that affects me more positively than just purely synthesized or computer-generated music, even though the sound of a lot of it is similar. Heatbox is definitely an artist to give a listen to, but, more importantly, see Heatbox live. You won't believe your eyes and ears!
Heatbox will appear at Crash Mansion in New York City with Kentavius Jones, NY Funk Exchange, Paper Doll, and Thought on Halloween Night, Oct 31, at 8 pm.
http://www.heatboxmusic.com
http://www.myspace.com/heatboxrcb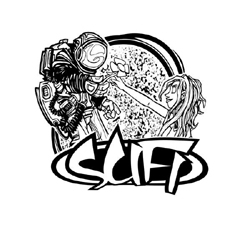 Sci-Fi
Sci-Fi
Self
This trio from Wilmington NC launched their self-titled debut album last year. Though brand new to the jam scene, this band has hit some tried-and-true festivals over past year, including Camp Bisco and Floyd Fest, and developed quite a following for their jazz-based jam.
Anchored by Tim Philpott on bass and Justin Heter on drums and percussion, Tyler Simmons's keys are allowed to shine, fully driving some tunes such as "Mid Tide," often slipping into flute realms, adding distinctive texture.   Though a bass/drums/keys trio might be handicapped, when they recorded their debut CD, they did enlist the aid of some stellar jazz musicians. Greg Hollowell from Yo Momma's Big Fat Booty Band adds a very tasty tenor sax and Alex Ginzbrug and Benjamin Forehand offer very rich jazz guitar work. However, cuts like "Align," "Jeb," and "Click" are crisp renderings between just the three musicians of Sci Fi. "Click," especially, has a chillin', jazz groove.
One   unexpected touch is Laura Reed's vocals on "Wanderlust," a tune she wrote. It's a soul tune, that's a bit of departure for here. Very tasty.
The album closes out with an intricate bass solo piece called "Bass Outro." It's a sweet touch to a very delicious album.
Sci Fi has a new live album out that is available for download for a minimum donation (usually about $1) at their website: http://scifimusic.net   The donation covers a small transaction fee and the rest goes to support Concepts 4 Charity whose   mission is to involve young people in philanthropy and/or the resolutions to community issues through sports and the arts.
SonicBids Lounge
In the Lounge this month is a group of emerging artists from SonicBids that I'm very excited for you   to get to know.   All are from the US, except for one extraordinary artist from Slovenia, and they come from classical music backgrounds, as well as contemporary Christian, pop, soul, jazz, Latin, Americana, and blues. That's quite a range, so there's someone here sure to spark your musical interests. So, come out of the heat of an August night, and grab something cool to drink, and let me introduce you.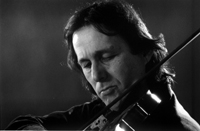 Over here in this well-lit corner, is Volodja Balzalorsky, a classical violinist from Slovenia, who has been making a splash in the US and Canada for the past couple of years, winning the Los Angeles Music Award in 2007, the Ontario Independent Music Award in 2007 for Best International Artist, and was a nominee for the Hollywood Music Award in 2008. Balzalorsky has earned his country's highest music award, the Julij Betetto Music Award, in 2006. This past spring, Balzalorky performed at SXSW in Austin, an interesting entry to what has come to be a rock, pop, and Americana event. A most sensitive violinist, Balzalorsky has been commended for not only his polished, technical execution but his intuitive interpretations of music. His rendering of Ernest Bloch's "Nigun" has the heart of an exiled gypsy coupled with the restraint of his violin mentors from all over eastern Europe.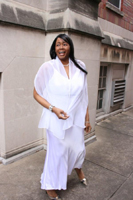 With him are two of America's newest contemporary Christian voices. Lynn Danielle Treasure is from St. Louis, Missouri, and re-emerged on the music scene in 2005 to critical acclaim, singing with the St. Louis Symphony In Unison Chorus for two seasons.   Her original lyrics and silky pop delivery has imbued her with strong cross-over appeal, while presenting her inspirational message. She's currently working on her debut album.
Lynn's counterpart, Stevvi Alexander, is from Brooklyn, NY.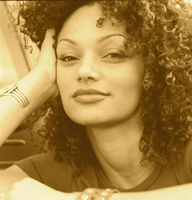 She has a full-rich voice that dips into styles of Kate Bush and Joan Osbourne. Offering a pop/rock edge to contemporary Christian music, Stevvi's bridges the secular and gospel gap. On first listen to her East Side Psalmbook, released last year, you might think she's just another young pop singer, but a closer listen shows a depth that isn't found in a lot of secular music, especially among young women writers. It's all very upbeat and inspiring.
And rounding out their table is Danielle from D Scott & The Family, an urban group from New York City.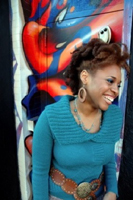 This beautiful and talented lady has a classical background in voice and piano, but by her teens was   singing, writing, and playing a closet full of instruments, including alto sax and upright and electric bass. Recognizing her talent early, she was accepted at Mary Baldwin College at 16, then transferred to Berklee College of Music where she earned a dual major   in Music Production & Engineering and   Music Synthesis with an emphasis on Interactive Media. Dipping into soul, hip-hop, R&B, and gospel, Danielle and her band are making a name for themselves. Her debut album The Price of Repression   came out in 2006 with Sounds of The Underground following the next year. Currently, she and her band have a new single out, "The Family Anthem," that is being well received.
D. Scott's band is down here mingling with some awesome rockers from Brooklyn, Wounded Buffalo Theory.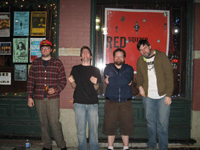 These four bad boys combine alt-rock with some psychedelic progressive rock and electronica that swings from sweetness to pure metal, fringing on hardcore. Though they can growl and shout–and do, they can deliver a mainstream pop vocal, but with a distinct twinkle, because their lyrics are often personal and social satires. Wounded Buffalo Theory just released its fifth studio album and continues to offer free music downloads at their website www.woundedbuffalotheory.net They also organized CabinFest, a festival in Andes, NY, that allowed them and 20 other bands to play long sets over multiple nights, instead of the 45 minute sets usually slotted to performers. This was a festival innovation.
Hi, guys, I see you've met the White Ravens from Saline, Michigan.
This three-piece is fronted by Amy Bennett   who writes all of the lyrics and also plays bass. She collaborates with Will Bennett (keys and guitar) who writes the music for their tunes. They are supported by Muruga Booker on drums.   This indie pop/rock group often has a flavor and innocence of early 60s bands, but then they can turn around and drop something with a Randy Newman meets Alice Cooper or Frank Zappa feel. Their self-titled album, released in 2007, was well received by college radio stations. And, late last year, the White Ravens collaborated with UK artist Andy Johnson and their song, "One Thing," was aired on the BBC! [See their exclusive Q&A on the Skope SonicBids page.]
Now, come along down this this way, over here in this smoky corner, I have two really cool jazz artists. This is George Jacobs, a jazz guitarist from Miami,
George here has teamed up with saxophone great Eric Marinthal and the legendary Ripipingtons. Back in the 80s, the Rippingtons were more of a jazz-infused rock group, and then about a ten years ago, they moved into smooth jazz. George himself was the lead guitarist and principal songwriter for the Latin rock group Chango, and has toured with Chick Corea, Journey, Styx, and Tina Turner.   His current band includes a vocalist, Samantha Cole. They have a new project , Under the Influence, that is a sweet, silky blend of soft rock and cool jazz that appeals to older jazz audiences and younger listeners looking for something richer in their musical libraries. George's "Sailing Sun" and "East" are pure ecstasy, and "Cybernet" is as exciting as any Medeski Martin and Wood or Bonarama track.
And right over here is Bill Champitto from Winthrop, MA.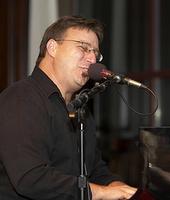 Bill is a jazz singer/songwriter who plays a killer piano and Hammond B3. When he was a boy, he convinced the pastor of the local Catholic church to let him practice on their big Hammond organ and rocked the quiet church with the Latin rhythms of Santana! Because he has always played by ear, he quickly picked up not only rock, but blues, Latin, jazz, Southern rock, and reggae. This made him adaptable and hardly ever without a playing gig. In the late 70s, he was in a power cover band, called Click, that opened for his musical idol Santana. Yet, something was missing. He enrolled at Berklee and devoured their entire 4-year program, finishing in five semesters and a summer! But life intervened and he had to push music into the background forcing him to set it aside for more than a decade. In 2005, he returned to his first love and began touring with a new band that includes Ricardo Monzon on African and Latin percussion and Keith Kirkpatrick on bass. His solo CD Water's Edge was released in 2007 (the fifth recording he's done), and this year released Bounce, a vocal-rich album of what has been called soul funkified jazz.
Finally over here near the bar is the Sacramento band, Two Sheds.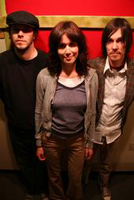 This 4-piece creates some of the most beautifully crafted Americana I've heard in a long time. Fronted by singer/guitarist Cailtin Gutenberger, whose voice is a cross between folk and indie rock, the band produces intelligent, often complex, but very poetic lyrics that are backed by some creative melody lines and inventive guitar, bass, and drum work. Caitlin and Johnny Gutenberger (bass and vocals) share songwriting duties. Their first CD Strange Ammunition was released in 2006, and they have a new self-titled, 5-song EP out now on Filter US Recordings. The current lineup of Two Sheds included Caitlin and Johnny, as well as James Finch Jr. on guitar and Rusty Miller on drums.
Now, if I can pull you away to meet one last artist. Over here where all of the commotion is, Pete's telling stories again.   I want to introduce you to bluesman Pete Herzog from Trail, Oregon.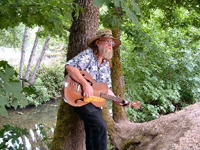 I have to confess this artist has stolen my heart with his back porch blues and honest vocals. (Plus I've always been a pushover for a full beard!). His "Pretty Mama Take Me Home" may not have the polish of my husband, Ron Franz's "Mama, Put a Slow Record On" (a tune that keeps me happily married to this singer/songwriter), Pete Herzog's song has a tender honesty and delicate guitar that just grabs me. But even his slide blues tune, "Jump On Blues," has my foot tapping and, though written about the Pacific Northwest, have the feel of the Delta.
See a story about Ron Franz in Refrain Magazine:
Pete picked up the lap steel when he was eight and changed to guitar as a teenager, learning blues, bluegrass, and all manner of roots music, not with finger-style techniques but with a flat pick. He soon discovered harmonics and open tunings and, of course, slide. Pete worked on the railroad earlier in his life and soon picked up a lot of steel driving songs, including call and response styles. This helped color his musical life and soon began to influence his own songwriting. He once said, "I've lived most of my life in the country on a dirt road and spent countless hours pickin' guitar on the back porch. To me the blues have always been more than three chords and twelve bars, sometimes one chord is plenty to tell the story and convey the feeling I'm trying to put out. The blues is mostly about a man and woman, the yin and yang, the light and dark, the tension and release, but it doesn't always have to be sad."
Though Pete has played in a lot of bands over the years and even did some solo work, he spent a number of years just picking on his porch, making music for himself and his friends. Today, he's back touring in support of his new CD, Homestyle, a sweet collection of roots blues from the real deal!
[See his exclusive Q&A on the Skope SonicBids page.]
Well, that's the lot this month. They're all great talents. Why don't you check out some of their websites and have a listen to some of their CDs.   For me, I'm going to sit with Pete Herzog a little longer. And, don't worry, Ron, I'm be home where that slow record is playing real soon!
By Janie Franz – jfranz@skopemag.com