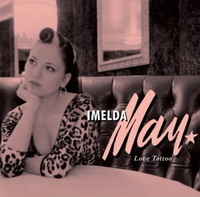 With a voice that's impossible not to fall in love with, and a heaping helping of Audrey Horn (Sherilyn Fenn) sex appeal; Imelda May can with your heart in a verse.
 
This Dubliner rose to fame after being hand-picked by former founder-member of Squeeze; Jools Holland to appear on his show "Later… with Jools Holland". Jeff Beck, made the trip out just to see her appear on the show.
 
Her music kind of sounds like a mixture of: Patsy Cline, Amy Winehouse, Billie Holiday with various boogie-woogie, jazz and blues musicians added in for good measure. Her adroitness [skill] ("I fear those big words, Stephen said, which make us so unhappy".- Ulysses) for making an earworm, is second to none.
 
Her retro sensibilities show throughout this album. From it's Blue Noteesque design to her "Irish rockabilly-jazz-boogie-woogie blues" aesthetic on such gems as: "Smokers' Song," "Meet you at the Moon" and "It's Your Voodoo Working".
 
The mostly self-penned album spans genres, and has some terrific toe-tapping tunes   that will be laser lathed off the c.d. after listening to it so much. It's only downfall is that's another in a   long line of retro-throwbacks that have become vogue. But, hey, she's not re-inventing the wheel. Duffy, anyone?
"Smokers' Song"- Sounding like a really jazzy Ben Folds Song Imelda sings about a women who "strives herself more than her appetite".
"Meet You at the Moon" – A down tempo little number that would win my heart if a girl ever sung that to me.
"Big Bad Handsome Man" – As "He's the Devil Divine, I'm so glad that he's mine" you have a feeling that her husband is one lucky bloke.
Review By: Shawn Alexander Roy
[Rating: 4/5]