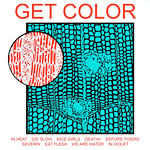 If My Bloody Valentine were to ever make a baby with Crystal Castles, you'd basically be able to figure out what electronic, noise-rock nightmare you'd be getting yourself into with HEALTH. Fans of Crystal Castles should already be familiar with HEALTH; "Crimewave", in it's "Crystal Castles vs. HEALTH" form(as opposed to the very different version on HEALTH's self-titled album), which appears on Castle's self-titled release, is the most familiar track amongst both bands' fans. But that was 2007, and since then the band has come back with a new album titled GET COLOR, have an opening spot on the final Nine Inch Nails tour dates, and in a huge marketing move involving tickets, straight from Willy Wonka and the Chocolate Factory, are showering their fans in prizes, and for one lucky person, will take them on a three day trip to LA; "WE WILL BRING YOU BREAKFAST IN BED. WE WILL LOVE EACH OTHER."
"In Heat", the album opener, makes no effort to build up to any huge breakdown, unlike the band's debut which opened with a drone that slowly became audible. Basically, this is the complete opposite, and is one minute and 47 second preview of the ear drum-shattering sound of GET COLOR, sort of like training wheels. Amongst the drum crashes and whatever else HEALTH has in their deafening weaponry, is the quiet hums and moans from Jake Duzsik, something that never changes no matter how loud it gets.
If you looking for an album to sing along to, this definitely isn't it. It's obvious after "Die Slow", HEALTH wants you to appreciate their mastery in noise, than sing along to catchy choruses. "Die Slow" is one of the heavier creations on the album, featuring gritty guitars and the sound of malfunctioning whirs and buzzes. In the end, it really is the drum work from Benjamin Jared Miller that really brings together most of the tracks off of GET COLOR, amongst the formentioned malfunctioning electronic sounds and screeches; "Death+" features a loop of something that could most likely be described as logging onto dial-up, and "Severin" will most likely be that one song that almost scares you half to death when you're shuffling songs with volume up to max, and not expecting a loud, horrific static to pierce your ears.
After eight long ear-damaging tracks, filled with screeches and powerful drums, the six-minute-long "In Violent" takes things down a notch, and gives your ears a rest with a simple loop accompanied by Duzsik's quiet voice, a voice that up to this point you never got to hear very much of. Even when Duzsik isn't fighting over nightmarish-sounds, don't expect to make out any words. Just take the closing track as a gift or hearing check-up, because after sitting through all of GET COLOR, you're going to need something not so loud to make sure you still have working ears.
REVIEW BY NORREL BLAIR
[RATING: 3.5/5]