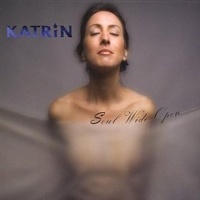 Katrin goes by only one name, but she wrote from several perspectives on her latest CD Soul Wide Open. The Boston-based singer songwriter has outdone herself with this collection of 10 stellar songs that range from quiet introspection to anthem declarations of independence and survival.
 
"Stepping Stones" is a catchy folk-rock song that plays out as an anthem of personal growth. Katrin's vocal approach glides comfortably in a space that rests between smooth and raspy, and her voice is strong enough to assert itself against producer-guitarist's Scott Tarulli's gripping, searing melodic phrases. Katrin owes much to Tarulli's skills at polishing this sonic outing to a high shine. Every note she sings is noticeable in each nuance.
 
The obvious hit single here, "One Year's Time," has the catchiest hooks on the Boston scene at this time. The acoustic guitar and percussion are irresistible and gorgeous. Katrin's voice comes across as vibrant as a fine-tuned string instrument played with precision and skill, and the melody she wrote manages to be striking and tender at the same time.
 
Outstanding instrumentation is the hallmarks of her songs "Your Song" and "Little Things." Tarulli's lead guitar burns through the speakers with a hot jagged edge. The rest of the band behind Katrin is also solid enough to handle her material in a straight forward style while building a clear soundscape for her exuberant voice to sing over.
 
This disc is a treasure trove with many shiny offerings. "Pieces Of Me" finds her voice flowing smoothly through a maze of acoustic and electric guitar sounds, and the way she plays off of the guitars is beautiful and unique.
 
"Wildflower" opens with a layer of heaven sent coo that   fills the ear with delight. Her powerhouse vocal matches the intensity of the guitars, and when she gets to the chorus lyric of "I'm the one wildflower in your garden" she makes her voice the exceptional instrument in this song.
 
"Weather Any Storm" is a slow quiet song with sparse instrumentation. Katrin's voice is the focal point that draws one to her assertive lyrics, giving the listener a chance to hear her Vibrant voice unadorned by hard charging instrumentation, and, of course, she manages to launch her vocal into the stratosphere even without a lot music around it.
 
The first thing that comes to mind about her song "Unconditional"   is: boy, can she hold a note. When Katrin flexes her vocal muscle, she brings with each note all the lush feeling of the notes that make up each note's composition.
 
"Mary" seems to be about Mary Magdalene, and the song guides the listener to a spiritual center that the Mary of the tale has already found. Here Katrin's voice makes the listener feel how strongly she feels about the woman she has praised.
 
Katrin closes out with "Ivy," a solo acoustic piece, short, friendly, an ode about biding one's time. The vocalist sounds satisfied and settled, and she projects this to the listener who by now feels he has gone on a journey with her.
 
Soul Wide Open is an incredibly strong effort for a local artist, and the production and recording quality is equally impressive. It is no wonder Katrin is currently touring in Europe.
www.katrinrocks.com
www.myspace.com/Katrinrocks
Review By: Bill Copeland
[Rating: 3/5]