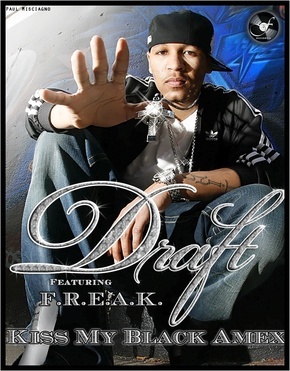 My next guest has been making alot of noise with his hit video & single, "Kiss My Black AMEX." Draft is his name and he comes from Chicago. He is the first artist signed to super-producer, Dean F.R.E.A.K Farmer's, F Records. His video has been viewed over 20 million times and his stock is rising in the hip hop game. Join us as we talk with Draft about getting signed, what Myspace views mean to record sales, Barack Obama's haters, and much more!
Stoli: Who are you talking to in the track, "Kiss My Black AMEX?"
DRAFT: I wasn't talkin to anyone specific, but if I had to point a finger it would be to all my haters! LOL!
Stoli: Has American Express thanked you for the huge free promotion from the track?
DRAFT: Yes and they are behind us 100%!
Stoli: How did you decide that you wanted to get FREAK on that track?
DRAFT: Well, that was a split second decision while in the studio recording it. I mean he did do the track and we wanted to get a different blend on the hook so I was like "FREAK get in the booth!!" LOL
Stoli: Your Myspace stats are insane for the video with 7 million + views. How much of those views have turned into paid downloads on Itunes or ZUNE?
DRAFT: A substantial amount…with the growth of the record more and more people are catching on and supporting it. But you know as an artist, and as a NEW artist that money is more of the label's money than yours. Thats how they recoup!
Stoli: Will hip hop artists still need to put out albums in 10 years or will it be all about the video and single?
DRAFT: I think the whole entertainment industry is becoming more and more internet savvy everyday! With all of the viral marketing and digital downloads who knows tho, I'm the type of person that likes albums for the packaging! I wanna read the credits and peepout the direction of marketing on that particular artist.
[myspace 53128694 nolink]
Stoli: When you are not creating hits, what do you like to do for some R&R?
DRAFT: In all actuality, recording music is my "R&R". I believe in the more successful you become the harder you have to work! But I also like to play basketball, shoot pool, workout, gamble, play dominoes, play cards, and watch movies …I'm pretty simple! lol!
Stoli: How did it feel when you heard you were signing with F Records and what does that do for your career in general?
DRAFT: I've been offered deals before so as far as the feeling, it was more me bein a lil skeptical than anything. But just like any other label its always gonna be a boost in your career.. but nowadays ultimately its up to you and how hard you work!
Stoli: How did being from Chicago shape you as a man and as an artist?
DRAFT: The CHI is a tough place! They live by nobody's rules out there!! But what I have experienced traveling all over recording and doing shows is everybody respects a dude from the CHI!! Its people that are scared to go there, and if you aint from the hood there you definitely don't wanna go to the hood unless you got sumbody wit sum rank wit you! As a man chicago made me tough!! As an artist chicago made me experince things that i can put in my music and convey it to the public in a creative way!
Stoli: Barack Obama is from Chicago. Do you think it is fair how Fox News anchors are constantly complaining and hating on his job as President?
DRAFT: I mean its haters everywhere you go and I know you had to see this comin!! He is our 1st black president, in their eyes he can do no RIGHT!! I hate to say it but racism does still exist and I think being racist is pretty immature! After our LAST president you would think people would appreciate OBAMA a lot more!! LOL!
Stoli: Chicago has become an even more dangerous city over the last few years. What do you think the city can offer the youth to stay out of trouble?
DRAFT: Wow!! Thats a good question! I think the city of chicago still has a few changes it needs to make just to focus a lil bit more on the youth. But I am the city of chicago as well so maybe that part is up to me! Thats why I'm in the beginning stages of starting my own non for profit organization which will focus primarily on the youth!! But until then I will continue to work with a non for profit company called "Dream Team" founded by Mikey Jackson & Scott Farmer out of chicago! They always do a fantastic job with the kids!!
Stoli: What is the word on your debut album and who are you working on that with?
DRAFT: We are lookin @ an early to late 1st quarter release! We are being free with the release date because we want people to catch on 1st before we just HIT them with an album. But as far as production wise FREAK produced majority of the album and the WILDBEATS TEAM produced the rest! As far as artist goes.. I wanna keep that a secret! Don't really wanting people to be anticipating my album because of the features! lol!
Stoli: What other music or artists do you listen to that may surprise Skope readers?
DRAFT: What may surprise Skope readers more is the fact that I rap but I very rarely listen to rap music! My favorite artists are Prince, Donnie Hathaway, Patti Labelle, Sam Cooke, Isley Bros, the late Michael Jackson, and Bobby Womack! But I do listen to sum rapartist that inspires memusicallylike Jay-Z of course, Nas, Joe Budden, Jadakiss, Big L, and a few others!
Stoli: So what is coming up for Draft and where can readers get more on you?
DRAFT: Well right now I'm doin a lot of interviews, recording and etc…gettin the public familiar with me and giving my fans more of me. I got a few shows comin up in a month or so! I'm about to drop the mixtape in about a month… just keep grindin ya kno! As far as staying in tune with me…you can follow me on twitter.com/itsdraft ,   you can add me as a friend on myspace.com/itsdraft ,   you can subscribe to my youtube channel at youtube.com/itsdraft and on facebook search me as "young Draft" , and don't forget the single is available on iTUNES so make sure you support and cop that!. By the way I appreciate your time and Skope mag's time as well…so thank you for having me and lets do it again sum day!