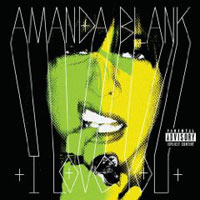 It's out of character for the typically foul-mouthed rapper Amanda Blank to talk about love and that's why her debut album's title I Love You seems wildly inconsistent with her established persona. Our first taste of the dirty rap diva has been on her potty-mouthed cameo appearances on Spank Rock and Plastic Little tracks — performers who have carved out a niche as indie rappers with an affinity for hyper sexualized lyrics. Nevertheless the title is consistent with this album's wider scope which shows that Blank is equipped to break away from her signature sexually driven material and foray into other realms of expression.
On I Love You the sex charged and sassy raps certainly make their appearance but Blank also shows us her other side. The sex soaked lyrics give way to sentimentality especially on the track "A Love Song" — here Blank confesses that she needs love even after all the heart breaking and playing around. She raps over the simple 808 drum machine beats which is a throw back to the minimalism of 80s era rap beats. The chorus is a sample from Santigold's "I'm A Lady". Is this the real Amanda; is she really a romantic at heart? Maybe that's a stretch but at least we get to see she can write and rap about more than just sexual escapades. She is well known for her rapping ability and she demonstrates her lyrical prowess with her quick fire raps on several tracks, but she also shows she has a more than adequate singing voice.
She is joined by some of her indie rap compatriots — Chuck Inglish from The Cool Kids raps on "Let Me Get Some" which is a swaggering rap jaunt. Her frequent partner in crime Spank Rock drops some verses on "Gimme What You Got" which is a Baltimore Club banger with rapid-fire choruses and raps layered over fuzzy electronic samples and machine drums. Blank returns to form on the tawdry "Might Like You Better" where she shows her raunchy side with "Ride no lie just get inside me / Like you better if you just ride me / Grind me, try me, watch me finish / I like you better if you get up in it"
Blank proves that she is versatile as a rapper and singer. I Love You shows Blank is still a dirty minded sharp tongued vixen but that she also has a voice and talent that isn't confined to the obscene. The electro rap sounds and club banging beats in part produced by Diplo make for a highly danceable album that is the perfect fuel for hip swaying dance floor debauchery.
[Rating: 4/5]
By Shaun Flagg
Listen to "Might Like You Better"
[audio:http://skopemag.com/audio/09 Might Like You Better.mp3]