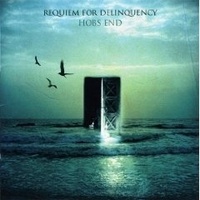 The mastermind behind Requiem For Delinquency's newest creation, Hobs End, is Faron Chance Morrison.   This one man also produced, engineered, mixed, composed and orchestrated this entire work.   One individual has come up with a layer of sounds that are creatively-driven, humble, sensual, passionate, well-textured, matured, emotive, incredibly serene and equally full of spiritual energy.   All of this by one artist on one CD for one purpose: to make feel-good music for people to enjoy.
As soon I pushed play, I knew that I was in store for something completely different.   What I heard on Hobs End really is just randomness of sound & style.   Morrison looked to get witty & inventive on this new record and I would say mission accomplished.   Music that has been classified as pop/electronica/progressive goes way beyond this notion taking it to a whole other realm.   Music with no limits and no limitations should be Requiem For Delinquency's motto, based off the new album.
I noticed, while listening, a very hypnotic-type of vibe going on throughout many of the songs.   It seemed that Hobs End was taking you on a hypnotic trip through that vast universe.   I'd like to call this tripnotic, if I may, because of its hip, hypnotic and trippy feel.   I also picked up on the fact that Morrison's vocals were very out there at times almost into the far depths of outer space.   The lyrics were very drawn out and spaced apart on purpose to make way for that intergalactic approach.   I highly enjoyed the cool, electronic elements on one track in particular titled "Before Ourselves".   I also liked the fresh, hip & happenin' beats displayed on such songs as: "The Work of Science" and "Today".   RFD had a real, outer-dimensional groove that made way for some real Space Odyssey-type shit.  
Two numbers that really matched up with the true meanings behind the songs were: "Time" and "Cemetery".   On "Time", Morrison slowed down the tempo and with such lyrics as "wasting our days", it seems time was being slowed down musically & spiritually.   On "Cemetery", you received a lonely feeling to go along with a bit of despair and dreary tone.   Making music match up exactly with the meaning is not an easy task sometimes, but it seems RFD made it happen.
The record ended in an unorthodox manner with some craziness going on sound-wise.   I didn't quite get the reason or even the method for Morrison's madness to end on that note but really that is the beauty behind this entire album.   Get ready to blast off with Hobs End at your fingertips and for more information on Requiem For Delinquency, SKOPE out www.requiemfordelinquency.com.  
By Jimmy Rae
[Rating: 3/5]