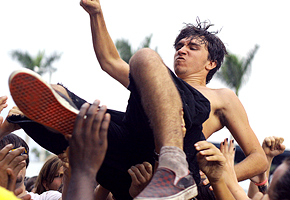 In its fifteen long, hot, sweaty, punk-driven years, the Vans Warped Tour has been a staple in almost any music fan's summer plans, and we have your coverage from its rainy-n-muddy stop in West Palm Beach, FL!
Since it's beginning in 1995, the Vans Warped Tour has always put on a huge punk rock line up with enough bands to make any fan wet their pants. Bands appearing on the line-up that year were Sublime, the Deftones, and No Doubt… shows you how old this tour really is. But in the past very few years, the tour has featured a much more diverse line-up by expanding it's genres with electronic/dance(3oh!3, Jeffree Star), pop-punk(Cobra Starship, The Maine), hardcore-metal(Underoath, The Devil Wears Prada), to just plain "what?"(Millionaires, Brokencyde).
This year in it's 15th Anniversary, the line-up reached an all time high of diverse genres. And as expected, there is always debate among the fans. Which isn't hard to understand since the tour started started mainly of punk rock and nothing else, and has been venturing farther and farther from that every year. No matter how much negativity the masses express each year about the line-up, the tour still attracts many each year, creating an exhausting and chaotic day of music.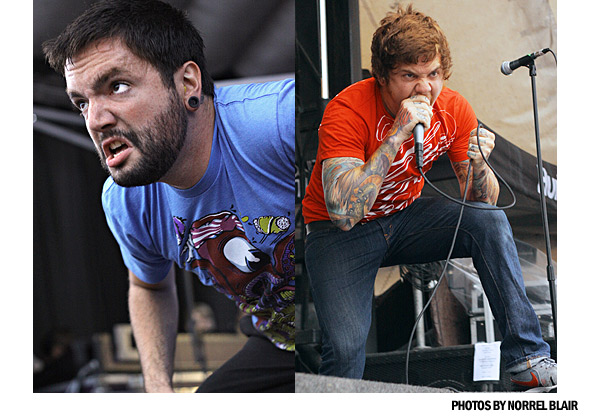 Stopping in West Palm Beach, something new was added to the recipe of the day that swept many of the bands off of their feet: a thunder storm. Gates opened early in the morning at 11am in muggy Florida, and the sky was already grey. Many were hoping the rain wouldn't come, but it did anyway, which brought delays in set times and mud to the Cruzan Amphitheater's dirt filled areas. However, any Floridian is used to a rainy summer day, and  while it may have hampered a number of concert-goers' day, it only enhanced the day for everyone else.
It should also be added that this was the first year the tour was held in West Palm Beach's Cruzan Amphitheater, moving from Miami, FL for unknown reasons. While the amphitheater's grounds are huge, it met with skepticism by many seeing as it fitting seven stages into a venue that usually only has two stages when such tours come through. Despite the skepticism, the Warped Tour was able to squish all seven stages into the grounds, and placing two stages on the venue's main stage, the Smartpunk and Hurley.com stages.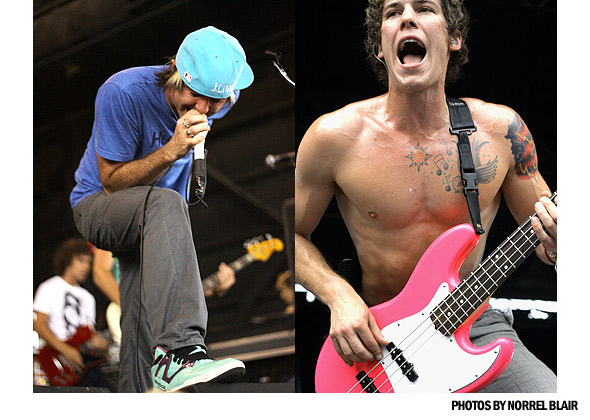 Out of the 70+ bands playing that day across all seven stages, the ones who were able to make fans forget the terrible weather were Gallows, Devil Wears Prada, Forever The Sickest Kids, A Day To Remember, and in a way, Millionaires. And as far as the bands that didn't show their all that day, and it would be easy to understand considering the weather, 3oh!3 would be first on the list.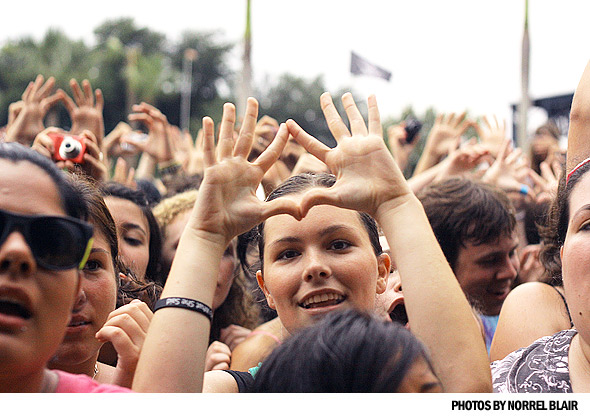 In their 3rd year on the Warped  Tour, everyone already knows who the electronic-rap duo is, with their hit single 'Don't Trust Me' on radios everywhere. This year 3oh!3 appeared with their new backing band, who they also used on the preview AP tour. Fans were ecstatic when the band ran on stage, but instead of starting a dance party, it looked more like the band was "trying" to start one. Both Sean Foreman and Nathan Motte were very lethargic and boring to watch on-stage. But it'd be wrong not to mention the guys seemed exhausted. And out of all the dates to be really exhausted, it would surely that day. Maybe next time, 3oh!3.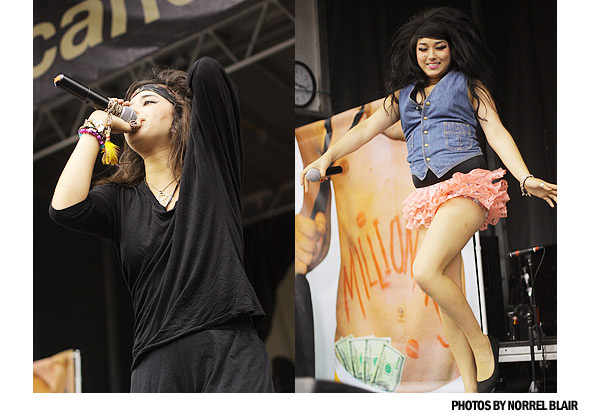 There was another band that day that many were eager to catch, but not for the reason you would think. The infamous all girl trio, Millionaires, are a band that almost every single person had quips about, stating how they are a "joke", and shouldn't be on the line-up. Whether you like them or not, the Millionaires are playing every date of the tour, and are stopping each one from being a total sausage-fest. After being introduced by a very hyped up dude, the girls pranced out on stage and went into their first song. They all danced in synchronization, and used their sex factor to excite the crowd, and even performed a gang bang on stage, which, even though it was a dry one, was still something you weren't expecting to see.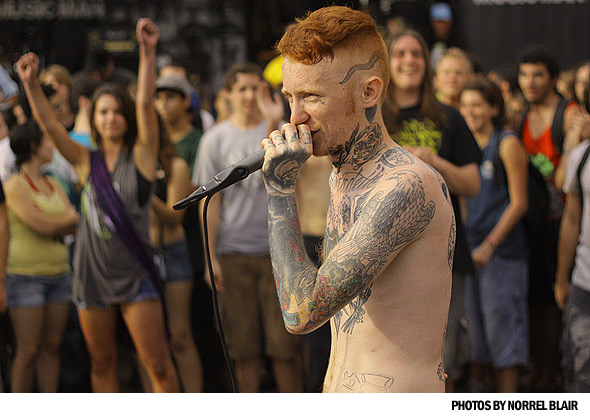 If at around 6:20 you passed by the Hurley stage, you would've thought a riot was breaking out. No worries, it was only the crowd huddle around the lead singer and guitarist of the hardcore-metal rockers, Gallows. Anyone who paid attention each day, or at least looked at the pictures, you would've noticed that every day Gallows performed, they proceeded to leave the stage and perform most of their set surrounded by their fans. Everything you'd expect, from a Wall of Death, and bashing on certain "talentless" bands, made it into their set.
– – –
This year's Warped Tour line up made many skeptical with it's choice of bands. But wether you were a pop fan, a hardcore-metal fan, (even)hip-hop fan, you got what you wanted, and hopefully enjoyed it.
See more. Click on the thumbnails for a closer look or click here See the Gallery