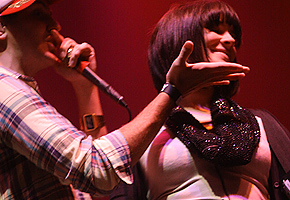 Before embarking on their "Hot Mess Across The U.S." tour, the Cobras opened up for none other than Katy Perry in New York at the Hammerstein Ballroom!
As a part of (RED)Nights, a concert series helping fight AIDS in Africa, the show in New York City with headliner Katy Perry brought out a huge crowd, including Donald Trump himself! Trump was seated up in the balcony with his huge entourage, and didn't take long for people to realize it, with all the camera flashes that had been going off.
Opening up for Miss Perry was Cobra Starship, who were still recovering from jet lag after getting back from Tokyo where they played a festival. Jet lagged or not, the Cobras still put on a show with all their energy and force, playing hits 'Snakes On A Plane', 'Guilty Pleasure', and even their new song 'Good Girls Go Bad'. According to Saporta, that night was the first time they ever played the song on the "western hemisphere".
– – –
The Hot Mess Across The U.S. tour starts today in Columbus, OH at The Basement. Openers will be The Audition, the Friday Night Boys, and Skeet Skeet. This tour is almost completely sold out, with a few dates still available. Get your tickets now… unless of course your date isn't sold out.
And don't expect the Cobras to be hitting the huge clubs in your city. All the venues (for the most part) are very small, and some aren't even venues you frequently see on tour dates. Have fun being squished!
PHOTOS:
Cobra Starship
Katy Perry