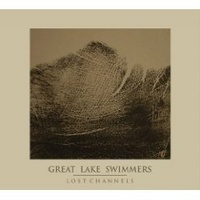 What is it about folk music and Canada that mesh so well together? Is it the vast landscape, giving way to unique tales of even more unique characters? Or is it simply that so many Canadians were/are raised on a strict diet of wheat and Neil Young? If it's the former, then lend the microphone to Tony Dekker, the plaintive yet endearing voice of Toronto's Great Lake Swimmers. And if it's the former, well, those influences can be heard all over the place on the latest from the Great Lake Swimmers, Lost Channels.
Shortlisted for the 2009 Polaris Prize and recorded throughout the 1000 islands of the St. Lawrence River, Lost Channels finds Dekker and co. making a swift departure from the often depressing vibes of previous albums in favour of gentle, transcending rhythms. They're augmented by banjo-heavy numbers that were country music not dominated by heart-on-your-sleeve meatheads, Lost Channels might be considered a pop record.
But nevermind classification, there is truly something on Lost Channels   for everyone. "She Comes To Me In Dreams" is a bustling, building twangy number that showcases the maturity in Dekker's haunting vocals. The standout might be "Still," a gloriously repetitive ode to the searching for the beauty in an otherwise mundane day-to-day existence. While many listeners will never experience the 1000 islands, it isn't nearly as difficult to become swept away by the rivers of sound on Lost Channels.
By Joshua Kloke
[Rating: 4/5]