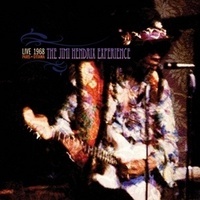 Guitar fans and players alike, never tire of guitar legends like Jimi.   Okay, we're tired of Page/Zeppelin, but that's due to the airwave overplay of the same damn material for the past 20 years!   Any newly released work by Jimi, shows you some element of his playing style in a new light.   The official Dagger Records "Bootleg" label from Experience Hendrix is distributed in collaboration with Geffen Records.   The Ottawa concert features previously unreleased material that was actually taped by Jimi himself.   This CD is available in a collector "Fan Pack" edition, with just about everything, but replicas of his cigarette butts!  
The Paris cuts include nine songs, featuring Jimi classics Purple Haze, Fire, Drivin' South, and Little Wing, and blues classics Red House, Killing Floor, and Catfish Blues.   The Ottawa material recorded by Jimi includes Sgt. Peppers, Fire, and Purple Haze.   The best part of this vintage live recording, is being able to follow a legitimate three-piece power trio through its paces.   As in the case of The Experience, the rhythm section of Mitch Mitchell on drums, and guitarist Noel Redding on bass, had to follow Jimi's unpredictable soloing each and every time as he continually improvised.   Stevie Ray received the same excellent treatment from bassist Tommy Shannon and drummer Chris Layton.  
The fan pack version, Includes a color swirled vinyl album containing Jimi Hendrix Experience Paris 67, a Jimi poster, a postcard concert poster set, badges, I-pod skin, a PikCard of photo picks, a Hendrix Woodstock T-shirt, and an All-Access laminate pad with a code word for other goodies.     It's yet another cool tribute to an icon, and a definite must have for the collector.   It's also fun to hear the live onstage banter with the audience, and the frequent tuning comments in an era prior to the rack mount/silent tuners!  
The official Limited Edition Fan Pack of the live Paris concert and previously un-released material from the Ottawa gig will be available exclusively through Amazon.com.   More info on this and other official releases can be found at jimihendrix.com  
Review By: RME
[Rating: 4/5]