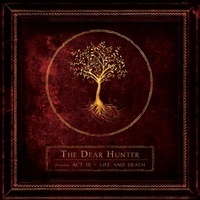 Rock Opera reigns again.   In stores now is the culmination of a trilogy that will go down in rock history as a must own collection.   The Dear Hunter released Act III: Life And Death, the third installment of their rock opera June 23, 2009 on Triple Crown Records.
For all you Pink Floyd or Freddie Mercury fans who thought that the rock opera genre was dead, here is an album that will captivate and stimulate the inner opera in you.   Act III: Life or Death is an epic opera that represents the next stage in the evolution of The Dear Hunter.   From 'Mustard Gas' Through 'Poison Woman' and 'The Tank', Act III: Life or Death… is a wild rock opera ride set circa WWI.     Epic vocals, a cryptic piano, and a knack for sound effects create an over all mood that does true musical justice to one of the most complicated rock genres to excel in.
The follow up to Act I: The Lake South, The River North, and Act II: The Meaning Of, & All Things Ms. Leading…Act III: Life And Death is the must own album of 2009 for any rock opera fan.
Hailing from Richmond, VA…The Dear Hunter Just completed a month-long US tour.   Look for these guys to be on tour again soon…
Reviewed by: Gary Jacobs
[Rating: 5/5]