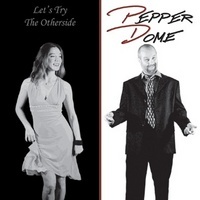 PepperDome and this new record is the sole idea of one man known as John Tokarczyk.   This musician of many faces works out all the vocals, bass lines, guitar and drums for Let's Try The Other Side.   PepperDome mixes a strange blend of hard rock, alternative, progressive and new-wave that sounds like nothing else I've heard before.   This PepperDome is highly creative and extremely inventive to say the least.
The new album offers solid drum beats along with nice bass playing.   Not to mention, the recording also contains rock-nasty guitar riffs.   This was my favorite part of the record, hands down.   PepperDome has created a hard rock sound here that is edgy, but all the while the songs pump nothing but positive messages.   So, the world of hard rock can unite with positivity.
Tokarczyk stresses that people should not focus on the negativity in life, but rather embrace happier times.   The beauty of the album is that PepperDome focuses on the ongoing issues/problems our world faces, but puts a positive spin on them.   Making music that is painfully relevant while shedding bright/sincere light over the top is PepperDome's mission.   Add in some awesome guitar licks that just rock hard and you have yourself one different yet meaningful piece of work.
There is one aspect of the record that I was unable to wrap my head around and that is Tokarczyk's vocals & singing style.   The approach is definitely quirky to say the least and somewhat humorous in tone.   I didn't quite get the vocal style here and therefore was unable to really get into the music.   Due to the odd display of singing, I really couldn't take the whole record serious.   Not saying that John's voice took away from or ruined the album by any means, but just saying that it hurt my own overall perception of Let's Try The Other Side.   PepperDome's unorthodox approach at the microphone allowed me to become disconnected from the overall picture.   Yet this is a shame, I do give props to PepperDome for killer guitar, drum and bass parts.   I also give major props for this artist to come up with a genius idea of blending hard rock/alternative/progressive/new-wave with lyrics of ongoing dilemmas but performed in a light-hearted-kind-of fashion.
For more on PepperDome and the latest release, Let's Try The Other Side, SKOPE out www.myspace.com/pepperdome.  
By Jimmy Rae
[Rating: 2/5]