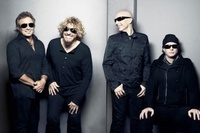 Super group, haven't had one since Velvet Revolver. Here's a kick ass good one.   It occurred to me that the band that each member came from, each had a power player.   This group of power guys fit the slot correctly to deliver the punch that the previous bands had.   Sammy Hagar, Chad Smith, Joe Satriani, and Michael Anthony have the energy and talent to rock and shred.   This group is the culmination of some fun jams at Sammy's Cabo Wabo club.  
Sammy is of course one of the most energetic frontmen (with range I might add) to be on the never-ending tour circuit for the past 10 years or more.   I think that any musician will agree that Satch is definitely on the same skill level as EVH.   He can bring it tastefully and effortlessly, and I think he's having fun with this type of setting.   One of his ambitions was to be in a straight out rock band with a maniacal frontman.   Chad and Michael are top journeyman players, and this rhythm section can play with virtually anybody.
Avenida Revolution and Soap On A Rope are sort of like listening to Van Halen getting funky.   The guitar breaks though, are original and not trying to sound like somebody else.     Sexy Little Thing starts out with a sitar-like intro, and covers Sammy's favorite subject (next to tequila of course).   Runnin' Out has some slick guitar work, and features Sammy's animated vocal treatment.   Satch must have been smiling while laying down the groove in Turnin' Left.   Yes, they do hop off the funk train and slow the pace down with a good ballad Learning To Fall.    
Mr. Anthony's backing vocals and Chad's funk/rock drumming, fit really well into this concoction.   The whole thing flows well, and this group of infamous luminaries may keep this project running.   Airplay and familiarity with the songs, will ultimately be able to generate a good listening following.   I'm sure they will be fun to watch onstage too!  
By RM Engelman
[Rating: 3.5/5]