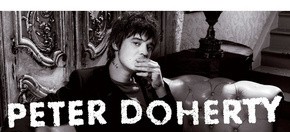 Peter Doherty, the English musician and indie laureate, reveals the new video to his track 'Broken Love Song' exclusively on independent web and mobile TV service Babelgum this month.
In addition Babelgum will play host to Peter Doherty's live acoustic renditions of 'Arcady' and 'Lady Don't Fall Backwards,' plus a never-before-seen two-part interview with the charismatic frontman.
'Broken Love Song' is the second single to be taken from Peter Doherty's critically acclaimed album, 'Grace/Wastelands'. The single b-side is a track called 'Ballad Of Grimaldi'.