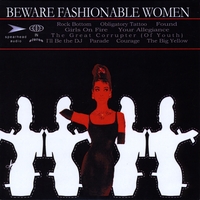 One could believe that Beware Fashionable Women derived their moniker from their new surroundings in L.A. However, it is more likely testament to a quirky sense of humor that oozes from the self-titled debut. Diverging from the light-hearted lyrical fare however, is a staunch commitment to musicality and the myriad of genres at BFW have at their disposal. Think a punk nuance meets California surf rock interior nestled in a pop candy coating–like a Beach Boys/Weezer M&M.
The album opens to "Rock Bottom" replete with jangle surf rock guitar work and harmonized vocals which both seem to be set to the melody of "Helter Skelter." In all the track is reminiscent of The Eels and Spacehog. The demure electrical strums of "Found" give way to dual guitar interplay over their ubiquitous melody with a clever outro time change. The track sounds like a B-side to Phish's radio-friendly Hoist album. "I'll Be the DJ" is earmarked with drone lyrical verses, weepy, effects-laden guitar work and a harmonized chorus. It has a Sunny Day Real Estate feel with Rivers Cuomo overtones.
The ten-track debut shows a versatility and vast array of influence. From one song to the next the feel changes while maintaining the foundations of melody, guitar-forward pop tunes. Radio-ready and approachable, Beware Fashionable Women is an earnest testament to multiple styles while showcasing the niche the quartet has carved out for themselves. Expect more pop goodness to come from these guys. I do.    
Review by Chris West
[Rating: 3.5/5]