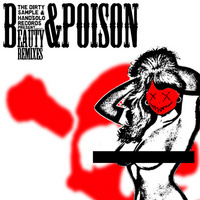 Hand'Solo is a Toronto based independent record label that is often underrated, but it's catalogue constantly   leaves you with your mouth agape.     Representing artists from Canada, the U.S., the U.K. and Japan, "Beauty & Poison" features the crème of the crop of hip-hop today.
 
Write off whatever you thought rap was, and open your ear to this gem.   Featuring remixes from The Dirty Sample who masterfully brings new life to these previously mind-blowing tracks.   This shows the upper echelon of not only hip-hop but music in general.
 
Available free as a promotion for   The Dirty Sample's 100% completely different   "Joshua's Dreamixes".   "Beauty and Poison"   features 18 remixes of songs by   Touch, More Or Les and Cadence Weapon.   With its masterful production and droll lyrics this album is sure to be an instant classic.  
1. Beauty and Poison intro
2. Born Again — Alter One (cuts by Cadilakid)
3. End Smartly — Wordburglar
4. Get Ripped & Try Dying — Max Prime (cuts by DJ Bizkid)
5. Think About These Things — Ill Seer ft Mandy Martens
6. The Blood Letting — Lexington + Whatevski (cuts by Shazbot)
7. The Dirtiest Sons of Bitches — NWO (cuts by Cadilakid)
8. Keeping It Real — Bobby Drake (cuts by Cadilakid)
9. Fresh! — Deezuz (cuts by Metawon)
10. Talk to the Hand (Solo) — More Or Les (cuts by DJ Wakcutt)
11. Captain Hipster — Id Obelus
12. Cocoon Into Nature — Selfhelp
13. Just A Ride — Xczircles
14. Hip Hop Head — Rhythmicru (cuts by Petey Punch)
15. Ropeladder — Nomar Slevik
16. The Uninvited Guest — Sankofa
17. Wookie Boots — Toolshed
18. Going Out On A Highnote — Addvice featuring Cadence Weapon, Touch, Stray, Chris Plus & Chazmo (cuts by Dorc)
Download Link:
Review By: Shawn Alexander Roy
[Rating: 5/5]