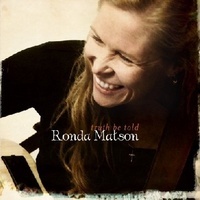 The CD right away has a real earthy/true-to-heart feel with Ronda Matson smiling away and flowers shown on the back cover.   With the background color of a plain-jane light, brown while showing Matson in a natural state of happiness gives off a vibe of eco-friendly trueness.   This is ideally what Ronda M. represents, which is just straight-to-the-earth's core-goodness with material that comes straight from the heart and right from the source.  
Ronda Matson is a folk/rock singer/songwriter who has a true passion for making meaningful music.   She is a classically trained performer who studied piano & guitar as a kid and then violin & voice lessons later on in life.   It all started in church where her dad was a Lutheran minister; music just seemed to just run in her blood from that day on.  
The record features 12 tracks that are heartfelt and sometimes painful occurrences in Ronda's life.   The sheer beauty though is that Matson sings these songs in a way that gives off a feel of immense hope, pride and faith that is absolutely contagious.   The true message behind each song is to always move forward and never dwell no matter what the circumstances may be.     Ronda displays some of her most personal and intimate of moments, but in such a positive fashion.  
The album starts off with a folky, rock-steady kind of sound that includes Ronda showing off her down-on-the-prairie harmonica skills along with knowing a thing or two about the guitar and singing.   Her singing style is quite unique in the sense of vocal tones.   She would sing in a high or medium pitch then drop down to an incredibly low key.   The end result actually sounded a bit hokey, at times, meaning that it just sounded a bit pushed or overemphasized.   Maybe by not dropping down quite so low, it would have sounded more natural and not so extreme.  
One element of this record that I absolutely adore is Ronda Matson on guitar.   The guitar playing is so pleasing to the ears and comes across as such a vital/key part toward the purpose of this album.   The guitar seemed to dominate bars during sections and really came across as shining moments on Truth Be Told.   That feeling of raw emotion that Ronda expresses so well in words is also picked up on guitar.   As John Lennon sang "While My Guitar Gently Weeps", Matson's guitar softly and heavily speaks.   The highs and lows of Ronda's own life seem to be incorporated into the voice & strumming of strings.
Lyrically, Matson comes across as very poetic, but always true-to-the-bone no matter what.   The material is rich with thoughts, feelings & ideas, which allows the listener to always be intrigued.   Ronda grew up writing a lot of poetry and prose, so it makes sense that this artist is getting wordy with us, literally.   One line that really sticks out to me is on the track, "Lift Me Up", where she says "Scattered sunlight through the showers".   This perfectly signifies her whole idea of hope and faith by saying there is always sunlight there even on those nasty, rainy days.   The sunlight may not be prominent amongst the showers, but is always there for the taking.  
Throw in wonderful harmonizing between Matson and her two daughters, Erin & Amanda, on "Bonny Call" and you have yourself one nice, put-together piece of work.   Melodically, lyrically, musically and emotionally, Truth Be Told is right on the mark.   For more on Ronda Matson and Truth Be Told, SKOPE out www.rondamatson.com.  
By Jimmy Rae
[Rating: 4/5]