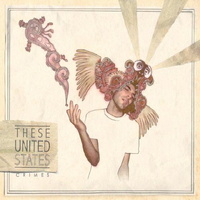 These United States describe their latest effort as "It's about crimes – good ones, bad ones, accidental ones, purposeful ones, all the ones people commit. Maybe not all of them – only 12 songs to pack it all in, you know – but a good deal of them. People do some wild things".
             
Those twelve songs pack and amazing punch. From it's perfect execution that   mixes catchy tunes and brilliant lyrics, to its inexplicable ability to brighten your day with its ironic, high-energy, action-packed songs that make it impossible not to get up and dance.
             
Influenced by "America. Places outside America. Bands, including American bands and bands outside of America.   Probably mostly Matt Jones, from Ypsilanti".   "Crimes" makes oodles of references to American history (Paul Bunyan and his big blue-ox, Mark Twain and Johnny Appleseed), and other scholarly high-brow references. (Miguel de Cervantes Saavedra, Napoleonic Wars, and Sherlock Holmes) These allusions don't hinder the album in anyway. The lyrics flow naturally and aren't clunky, and its brilliance will be appreciated when you listen to the album again and again.
             
Stand out tracks:
"Susie at The Seashore" – A tongue-twisting tale of a visit to where Susie sells her seashells that turns into a journey of self-discovery.
"Honor Amongst Thieves" – A toe-tapping tune about the thieves code.
"When You're Traveling at the Speed of Light" – Leaves you with some gems of wisdom, including "Oh, if the thing that drives you onward is your heart, you must not let that engine die".
Catch this band on tour and/or buy their album now.
Review By: Shawn Alexander Roy
[Rating: 5/5/]