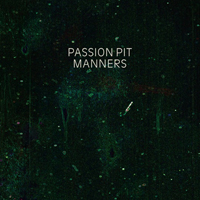 It is clear from the beginning of Passion Pit's debut full-length album Manners that lead singer and keyboardist Michael Angelakos is the sentimental type. Not surprisingly it was sentimentality that inspired Angelakos to craft the first Passion Pit EP Chunk of Change — that album was a Valentine's gift for his then girlfriend. Now on Manners he digs into heartbreak for further inspiration and works with his four band mates to deliver a stand out electro pop album.
Angelekos has a knack for writing catchy lyrics imbued with emotion. The songs are upbeat and dancey but the lyrics are plaintive and forlorn. His falsetto singing style seems a bit over the top on songs like "Make Light" and "Little Secrets" and he does better when he tones it down. Nevertheless his vocals are a suitable conduit to express his sentimental lyrics. The electronic arrangements are layered with synthesizer melodies and samples. It is highly danceable electro pop that creates a deceivingly cheerful juxtaposition to the melancholic content.
The track "Sleepyhead" which appeared first on the EP is back on the full length. It is a highly textured electronic jaunt with thudding drumbeats and layered samples including vocals from the song "Oro Mo Bhaidin" by Irish singer Mary O'Hara dotted throughout. "Moth's Wings" is lofty with its soaring melody and anthemic vocals, which create a somber tone as Angelekos describes an irreconcilable relationship. The lead off single "The Reeling" is another stand out that features distinct intertwining electronic melodies and ear pleasing choruses.
Review by Shaun Flagg
[Rating: 4/5]