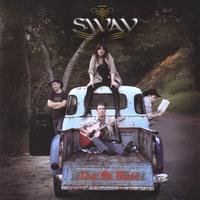 Singer/Songwriters, Gina Quartaro & Perry Martin are fully responsible for the contemporary country band known as SWAY.   The founding members along with their backing band bring you their debut album, Let It Roll.   One amazing concept is the fact that this record is a debut because of its incredibly professional sound.   SWAY play together like they already have at least a few albums under their belt.   The band chemistry is spot on and the recording session compares to that of a fine-tuned-automobile.   Precision, artistry, quality and stone-cold-steadiness are the blood, sweat and tears behind the making of Let It Roll.  
The special element or magic if you will behind this record stands at the heels of Gina Quartaro and Perry Martin's musical abilities.   The two musicians are both crafty songwriters as well as solid guitar players.   Throw in their singing styles and you have yourself a killer combo of artists' delight.   I could really feel, at times, that Quartaro was the driving force for the band whenever she opened her mouth.   Her vocal delivery is full of energy & spirit while her well-versed words captivate an audience along with the people around her.   A musician, a lyricist but most importantly an artist honing in on one's craft is the overpowering result here.   Both members bring a deep love for nothing more than just MUSIC, which can be heard loud and clear.  
The record starts off with a very simple yet direct country tone that can best be described as Genuine Country Time Lemonade.   Cool and refreshing on a hot summer day while being smooth for offering a real-to-the-core goodness.   Lemonade excites some peoples' taste buds while SWAY grabs onto the hearts and ears of individuals.   Nothing but true and fresh material for your pleasure is the premise behind SWAY's Let It Roll.
On the track, "If I Knew", Gina seems to be not only in touch and in perspective with her audience but also with herself.   The final cut, "Love Takes Time", ends on a dance-oriented note with a real hoedown, country jig.   Perry's lyrics on "This World" really made me stop and think for a second: "Spark of life in a new-born baby's cry" & "There's still a chance for this world".   With a birth of an innocent baby brings hope, promise and really a new beginning.   Life can be crazy/tough and hard to figure out, but a "spark of life in a new-born baby's cry" can still give the world a fighting chance.   Well said Perry Martin.  
For more on SWAY and this Current, Country band's new release, Let It Roll, SKOPE out www.swaymusic.com.  
By Jimmy Rae
[Rating: 4.5/5]