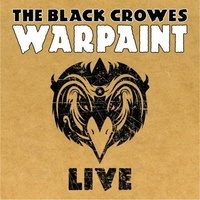 Often the main benefit of the live album is its ability to capture a dynamic that is either lost in post-production studio work or overlooked all together. The raw, organic sound, the tendency for improvisation and the extended play times of the tracks are live disc staples and none are lost on The Black Crowes live homage to 2008s Warpaint.
The Crowes have never been ones to keep their Southern roots clandestine. Rather, they have always worn the soul, Southern rock and gospel facets out in the wide open like a fine sleeve of tattoos. The underlying vein of Warpaint however features the aforementioned facets as simple nuances while the spine of the thing is dirty, dirty blues–both lyrically and musically. "Evergreen" benefits from the heavy, distorted guitar intro, a myriad of piano and key soundscapes and the gruff, almost strained vocals. If nothing the track is testament that the Robinson brothers et all haven't missed a lick and still lean on the Shake Your Money Maker elements that got them where they are today. The demure "Locust Street" morphs into a bluesy ballad that is the perfect complement to Chris Robinson's crooner lyrical delivery. "Movin' On Down the Line" builds from an opening jam into a rock heavy-hitter with the album's central vein of bluesy swagger. The soaring slide guitar work a la Allman Brothers sends the live version to a new height and breadth and also clocking in at just under eight minutes. Finally, a must mention is that the second disc contains Crowes ubiquitous covers and favorites. Robinson can still belt out the upper range of "Bad Luck Blue Eyes Goodbye" and they bring favorable spins on The Stones' "Torn and Frayed" and Clapton's "Don't Know Why."
While I am not going to chalk this up as a benchmark piece, it is a live version of what was already some of the Crowes better work. Again, the elements that the live recording brings to the album do in fact make it outweigh the studio counterpart in some regards. But I think what the album says more than anything is that the tumultuous and unpredictable Crowes have a future that is perhaps clearer than ever.
By Chris West
[Rating: 3.5/5]