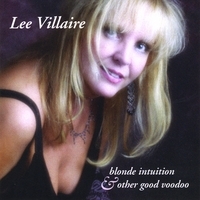 To first set the record straight, the artist formerly known as Lee Villenueve now goes by Lee Villaire.   For Villaire, the new name just has a better ring to it and is a lot easier to pronounce.   The new record features 13 songs that are solely written by Villaire herself with the exception of one number.   The singer/songwriter/guitarist originally from Montreal, but now presiding in Massachusetts, offers up a little sense of blonde intuition & other good voodoo.  
Lee V., herself, considers her music to be of a sensual and jazzy-folk-rock nature.   I would have to agree myself, but even go deeper into the concept of the album.   With the title blonde intuition and Villaire having blonde hair, she seems to be feeding off that stereotype of the "Bubbly, Bouncy Blonde".   Her vocal approach seems to come across as very playful and "cutesy" at times.   This former Canadian appears to be poking fun at the ditzy, blonde stigma just by the way she sings.   I think the motif is excellent, funny and quite witty now that I think about it.  
The CD opens with a very playful, yet powerful, vocal performance and adds in sensuous emotions on "Ooh La La".   Next on the bill is "Still Love Me?", which is so seductive and bluesy while showing that Villaire has some real grit backed behind her chops.   Track three, "In a Perfect World", Lee plays upon the sweet-little-innocent-ol'-me routine while the song remains incredibly meaningful and emotional.   Many emotions are picked up on right away while listening to blonde intuition & other good voodoo such as: pain, love, straight-from-the-heart feelings and just an overall tender, sentimental quality.
I can't leave without mentioning the tremendous band backing Villaire on this project.   Dave Gaudet is responsible for guitar and harmony vocals, Kris Lucander on bass, Tom Ruckey playing on the drums & percussion section, Adam Bergeron on keys along with a few additional guest artists.   The two best examples of an A1-all-around-band-performance would be on "The Good Stuff" and "What A Rush".   "Good Stuff" is just that with each player bringing the best of the best from their instrument(s) of choice.   On "What A Rush", you're hearing just a cool-to-the-core guitar and bass sound with drums pounding away while coinciding equally with Villaire's powerful vocal delivery.  
I only have one suggestion for Lee Villaire looking ahead to future endeavors and that is to diversify more.   Diversify and really challenge yourself as an artist, performer and as a person.   What I'm getting at is to maybe drop the Bubbly/Sexy Blonde tone from time to time and experiment with other styles.   Don't get me wrong, I simply love the whole concept and think it really worked well on this record but would have loved to hear MORE.  
For more on Lee Villaire and her new album, blonde intuition & other good voodoo, SKOPE out www.leevillaire.com.
Review By: Jimmy Rae
[Rating: 3.5/5]